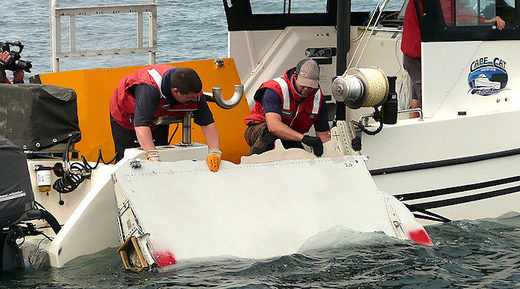 lA group of Australian researchers has narrowed down the area in which ill-fated MH370 flight could have crashed with unprecedented detail, which may lead the investigation to be re-opened and bring closure to the unsolved aviation mystery.
"As a result of oceanographic studies done by CSIRO (Commonwealth Scientific and Industrial Research Organisation) and presented to the meeting, a new search area near 35 degrees south was recommended," Dr. David Griffin, team leader of the oceanographic study, said in a
blog post
. "Our final recommendation is way more precise than I dreamed we would be able to achieve," he added.
The MH370 flight from Kuala Lumpur to Beijing disappeared under mysterious circumstances on March 8, 2014, with 239 people on board. A multinational search and rescue operation was launched covering a 120,000 square kilometer area (46,000 square miles), but yielded no definitive results.
The search was officially
called off
after almost three years on January 17, 2017.
The area CSIRO identified as a result of its latest research had been flagged as a
"highly likely" resting place
for the ill-fated flight in December of 2016 by the Australian Transport Safety Bureau.
In 2016, the bureau commissioned
CSIRO to conduct surface current modeling
to examine where floating debris from the crash may have gone.
A flaperon from the aircraft was discovered on Reunion Island off the southeast coast of Africa in July of 2015.
The nearly complete absence of any debris along the West Australian coastline helped narrow down the research parameters.
The Indian Ocean has unusual currents in several specific areas, which further exacerbated the problem of finding debris and hampered the search for years. "We had to work out what the ocean currents were doing every day for more than two years," Dr. Griffin said.
"When we started on this, I thought we would be basing our conclusion on backtracking across the ocean. But that is doomed because of the distances involved.
We stumbled upon something that gave much more certainty
about the whereabouts of the plane than we anticipated," he said.
Following exhaustive research, the team's findings have
narrowed the potential wreck site to a 25,000 sq km zone (9,650 square miles) north of the original 120,000 sq km search zone.
"Testing an actual flaperon has added an extra level of assurance to the findings from our earlier drift modeling work," said Griffin, as cited by the Australian Transport Safety Bureau.
The governments of Australia, China, and Malaysia have promised to reopen the investigation if "credible new information" comes to light. Whether these latest findings will suffice remains to be seen.