Suspicions continue that missing Malaysia Airlines flight MH370 may have been hijacked, after it's revealed the final message from the cockpit, "all right, good night," was sent after the first of two communications systems was disabled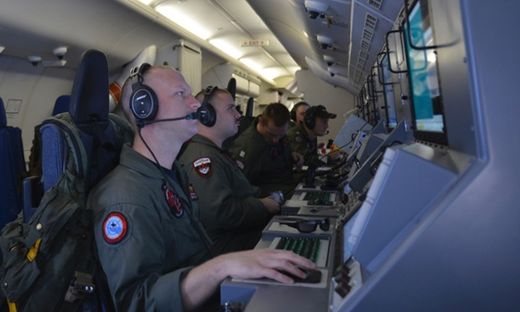 1.28pm AEST
Hello, and welcome to the
Guardian
's rolling coverage of the search for missing flight MH370.
Authorities believe the person who transmitted the final message from the plane, telling air traffic control "all right, good night," may have known that one of the communications systems had already been shut down,
adding further evidence to the suggestion the plane was hijacked
.
Aviation maintenance experts have said the only way to shut down the communication systems is with a series of deliberate sequenced switches from inside the cockpit.
Authorities have not said whether they believe the message came from Captain Zaharie Ahmad Shah, 53, or co-pilot Fariq Abdul Hamid, 27, or from another unknown person. All crew and passengers are being investigated.
The Malaysia Airlines flight, which disappeared more than a week ago, has been the subject of one of the most extensive multinational search operations in history, comprising the resources of 25 nations scouring oceans, and large tracts of land across 11 countries.
1.28pm AEST
The Guardian
's Tania Branigan in Beijing, examines four key questions that are as yet still unanswered, including:
Who was flying the plane when it disappeared?
What do we know about the crew and passengers?
Why did no one on board act to intervene?
What will we learn from the cockpit voice recorders?
You can read the piece in full here.
1.59pm AEST
The Australian prime minister has received no information to suggest the plane has been detected flying near Western Australia's coast.
"All of our agencies that could possibly help in this area are scouring their data to see if there's anything that they can add to the understanding of this mystery," said Tony Abbott.
There are two likely routes the plane could have taken, investigators believe - north over Central Asia, or south towards the Indian Ocean.
Australia has provided two military aircraft to assist in the search and Abbott will speak to Malaysian authorities this week to see if more is required. He suggested many lessons will be learned from this incident, including regarding aircraft tracking, but did not want to speculate on any outcomes of the investigation.
"Let's, as far as we can, get to the bottom of it and then decide if there is anything that ought to be done differently," he said.
2.25pm AEST
Not every country with passengers on the plane has responded to requests from Malaysian authorities' requests for information, police chief Khalid Abu Bakar told Reuters. Of the background checks that have been carried out, nothing has surfaced so far.
Special branch officers searched the homes of the pilot and co-pilot over the weekend. Below, from Reuters:
A second senior police official told Reuters investigators had found no links between Zaharie, a father of three grown-up children and a grandfather, and any militant group.

Postings on his Facebook page suggest the pilot was a politically active opponent of the coalition that has ruled Malaysia for the 57 years since independence.

A day before the plane vanished, Malaysian opposition leader Anwar Ibrahim was convicted of sodomy and sentenced to five years in prison, in a ruling his supporters and international human rights groups say was politically influenced.

Asked if Zaharie's background as an opposition supporter was being examined, the first senior police officer would say only: "We need to cover all our bases."

Malaysia Airlines has said it did not believe Zaharie would have sabotaged the plane and colleagues were incredulous.

"Please, let them find the aircraft first. Zaharie is not suicidal, not a political fanatic as some foreign media are saying," a Malaysia Airlines pilot who is close to Zaharie told Reuters. "Is it wrong for anyone to have an opinion about politics?"

Co-pilot Fariq was religious and serious about his career, family and friends said.

The two pilots had not made any request to fly together.
2.39pm AEST
There are reports around in the last hour or so, claiming new information that the plane dropped to an altitude 5000 feet.
Investigators believed the plane dropped to the dramatically low altitude in a dangerous evasive flying technique. The low level may have allowed the plane to avoid radar detection in at least three countries,
Fairfax and others report.
New Strait Times publish a photograph of their front page.
Updated at 2.58pm AEST
3.08pm AEST
Australia has been requested to take leadership over the search effort in the southern regions. From AAP:
Prime Minister Tony Abbott on Monday referred to the incident as an "unfathomed mystery" when telling federal parliament he had recently spoken with his Malaysian counterpart Najib Razak.
"He asked that Australia take responsibility for the search in the southern vector, which the Malaysian authorities now think was one possible flight path for this ill-fated aircraft," Mr Abbott said.

Mr Razak also accepted an offer of additional Australian maritime surveillance resources.

The countries' defence chiefs have also been in contact to determine Australia's role, Mr Abbott said.

"Australia will do its duty in this matter ... to ensure that our search and rescue responsibilities are maintained and upheld," he said.
3.36pm AEST
The release of new information from Malaysian authorities has caused some anger at why it wasn't disclosed sooner.
An editorial from Chinese media organisation Xinhua has labelled Malaysia's response as either a "dereliction of duty" or a reluctance to share information with other nations involved in the search effort for the missing 239 passengers and crew.
...it is undeniable that the disclosure of such vital information is painfully belated - more than seven excruciating days after the 227 passengers and 12 crew members lost contact with their beloved relatives and friends.

And due to the absence - or at least lack - of timely authoritative information, massive efforts have been squandered, and numerous rumours have been spawned, repeatedly racking the nerves of the awaiting families.

Given today's technology, the delay smacks of either dereliction of duty or reluctance to share information in a full and timely manner. That would be intolerable.

As the leader of the international search and rescue mission, Malaysia bears inescapable responsibility. Other parties that possess valuable data and information, including plane maker Boeing, engine manufacturer Rolls-Royce and intelligence superpower the United States, should also have done a better job.
You can read the full editorial here.
3.59pm AEST
BBC news has interviewed a friend of the pilot, Zaharie. Below is a short excerpt, but
you can listen to the whole exchange here
.
The friend, Peter Chong, has dismissed suggestions that Zaharie could have been behind the disappearance or crash.
I've known him to be a friendly person, a very jovial person who enjoys the company of people.
...
Obviously I'm very emotionally affected by it. I wouldn't believe, unless proven otherwise, that he had anything directly to do with what's happened to flight MH370.

His character, his personality, just doesn't point in that kind of a direction. Honestly I'm in a very confused state at this point in time.
4.21pm AEST
I will hand over to my colleague Paul Farrell shortly.
First, here is a short dispatch from the Guardian's China correspondent Tania Branigan, regarding those earlier reports of the plane flying at 5,000 feet to avoid radar detection.
I've just spoken to Sidney Dekker, a professor at the Safety Science Innovation Lab at Griffith University and expert on aviation safety.

He dismissed the idea that flying at 5,000 feet would put extensive strain on the airframe, as some have suggested: "The only really relevant effect is a dramatic increase in fuel use - its range would be very much shortened by that; probably halved, at a very rough guess.

"Other than that, it would be perfectly capable of flying - if you go into Heathrow you are circling at 5,000 feet before they let you land," he said.

He added that it is difficult to overstress a fly-by-wire (rather than mechanical) plane such as the 777, though he did add one caveat: if a plane was in an extremely fast dive and abruptly pulled out of the dive at its bottom, that could cause problems.

But perhaps more pertinently, he pointed out that altitude readings taken from radar recordings should be treated with extreme caution: "Particularly over oceanic areas, radar coverage is extremely unreliable and partial," he warned.

Finally, he added one note of caution regarding the focus on the airline crew, based on his years of examining aviation disasters.

"In the absence of knowledge, it is so easy to blame it on the little guy - particularly if he isn't there to answer back. It is so easy to say 'the crew must have done something wacky,'" he said.
4.35pm AEST
Good afternoon, I'll be taking over our coverage of the missing Malaysia Airlines flight now.
First off, we've heard a lot about the gradually increasing search zone in the past 24 hours. This is quite an effective visualisation from WNYC that pulls together all 634 runways that flight MH370 could have made it to.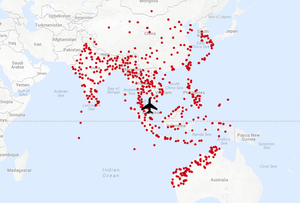 A similar visual aid was used by CNN in an update about the flight, but it did not have quite the desired response from all readers.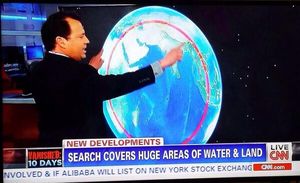 Updated at 4.39pm AEST
4.43pm AEST
China's official news agency Xinhua had earlier slammed Malaysia's handling of the search operation in
a scathing editorial
. But it's worth recalling from coverage last week that there were
also reports in China
that coverage of the missing flight was being strictly monitored by China's propaganda department. The
China Digital Times
reported last week that the directive, which was sent out to journalists and editors in China, was leaked online and verified by them:
Central Propaganda Department: The media may not independently analyze or comment on the lost Malaysia Airlinesflight. Related coverage must strictly accord with authoritative information issued by the Civil Aviation Administration of China and with Xinhua News Agency wire copy. The domestic aviation department can promptly provide related information to passengers' family members. All media must refrain from interviewing family members without permission, and must not incite any discontented sentiment. All media continue to give increased publicity to the Two Sessions.
There's an important caveat on the accuracy of this translation though:
CDT collects these directives from a variety of sources and checks them against official Chinese media reports to confirm their implementation.Since directives are sometimes communicated orally to journalists and editors, who then leak them online, the wording published here may not be exact. The original publication date on CDT Chinese is noted after the directives; the date given may indicate when the directive was leaked, rather than when it was issued. CDT does its utmost to verify dates and wording, but also takes precautions to protect the source.
Updated at 4.50pm AEST
5.05pm AEST
Pilot suicide is seen as an almost taboo subject, but it is one that investigators into the missing flight would now be considering, according to
Associated Press.
Aside from references to "personal problems" or "psychological problems" among crew by Malaysia's police chief there has been little discussion of the issue in the search operation so far. This piece takes a look at a difficult topic:
As police investigate the two pilots of a Malaysian passenger jet that disappeared more than a week ago, a possibility they must consider - however remote and improbable - is that one of them committed suicide - and mass murder in the process.

While such incidents have happened before, the topic remains almost taboo, with investigators and officials reluctant to conclude that a pilot purposely crashed a plane in order to commit suicide even when the evidence appears compelling.

A dozen years ago, U.S. investigators filed a final report into the 1999 crash of EgyptAir Flight 990, which plunged into the Atlantic Ocean near the Massachusetts island of Nantucket, killing all 217 aboard. They concluded that when co-pilot Gameel El-Batouty found himself alone on the flight deck, he switched off the auto-pilot, pointed the plane downward, and calmly repeated the phrase "I rely on God" over and over, 11 times in total.

Yet while the National Transportation Safety Board concluded that the co-pilot's actions caused the crash, they didn't use the word "suicide" in the main findings of their 160-page report, instead saying the reason for his actions "was not determined." Egyptian officials, meanwhile, rejected the notion of suicide altogether, insisting instead there was some mechanical reason for the crash.
The final report from the investigation into the EgyptAir flight is on the
National Transportation Safety Board website.
5.28pm AEST
Speculation over what happened to the missing flight has only grown as the facts have trickled out in the last few days. There is a growing narrative emerging that suggests there were individuals on board the plane who deliberately intervened with electronic equipment. The
LA Times
has published a piece on what that means for the families of those on board the plane:
The possibility that Malaysia Air Flight 370 was hijacked has heartened the relatives of passengers who are holding out hope that the missing plane landed in some remote location, perhaps a tropical island.

"My gut feeling is that it landed. I still feel his spirit. I don't feel he is dead," said Sarah Bajc, a 48-year-old American teacher living in Beijing whose partner, Philip Wood, a 50-year-old IBM executive, was a passenger on the flight.

A former technology executive, Bajc has been one of the most proactive of the family members, setting up Facebook and Twitter accounts encouraging people to keep looking for the plane. ("The glimmer of hope has become a definable ray. Hostages are far more valuable alive," she wrote on the Facebook page "Finding Philip Wood.")
The families of those on board the flight have featured prominently in the reporting of the missing plane, and the continued speculation has no doubt taken its toll on some of them.
The Conversation
has considered how journalists can report responsibly on these kinds of disasters when relatives are involved:
But why does the media have to gather footage of people in emotional turmoil? Principally, because it is part of the tragedy, just as much as what happened to the plane or the authorities' responses. There is a need to record the whole story and to resist sanitizing the news by avoiding human suffering. Portraying grief can be done with sensitivity and care. For example, some coverage has used humanising factors in a respectful manner. Shots at the airport say much without commentary; the young Malaysian woman with the baby at her hip; older women sitting in silence; a small child being comforted as she cries. Our research indicates that for families bereaved by trauma, the idea that something positive has come out of their suffering is at least some comfort for their loss.

Equally, there is a public interest justification for the full story to be recorded as it happens to bring those in authority to account later, to provide explanations for the grieving during the tragedy and afterwards and to help communities globally understand and share what has happened.

So how do journalists negotiate the boundary between intrusion and legitimate news-gathering; between using grief for ratings and allowing the relatives' stories to be told? It is unlikely they will ever get it completely right. There are too many emotions and human variables in the mix for that.

Our research suggests two dominant approaches. First, journalists should pause to assess the potential harm they could cause by their reporting. Second, they should be as honest as possible with interviewees about what they want, what their report could achieve, and inform relatives that others are involved in editorial decisions about the story. This is much easier to achieve in small groups than in a media scrum, but in large-scale incidents the authorities can take some responsibility for the relatives' well-being and dealings with the media. This happened to some extent with Flight MH370 but it seemed reactive rather than proactive.
5.53pm AEST
New statement from Malaysian government says investigation into all passengers began on Saturday
The Malaysian ministry of transport has just issued a new statement about the search operation. Crucially, it says that last Saturday police began investigating all passengers and crew on board the plane, as well as ground staff. The Malaysian government has faced growing criticism over their handling of the search and rescue operations and the timeliness of inquiries they initiated.
The statement also adds that French investigators have been enlisted to assist in the operation based on their experience from the search for Air France flight 447.
Read the full statement here:
1. Search and rescue operational update

a. The number of countries involved in the search and rescue operation has increased from 14 to 26. These countries are: Malaysia, Australia, Bangladesh, Brunei, China, France, India, Indonesia, Japan, Kazakhstan, Kyrgyzstan, Laos, Myanmar, New Zealand, Pakistan, Philippines, Russia, Singapore, South Korea, Thailand, Turkmenistan, UAE, UK, US, Uzbekistan, and Vietnam.

b. Today, the Royal Malaysian Navy and the Royal Malaysian Air Force will deploy their assets to the southern corridor.

c. The Ministry of Foreign Affairs has sent diplomatic notes to all countries along the northern and southern corridors; and all countries from which we are requesting assistance.

d. The above mentioned diplomatic notes set out the specific support and assistance required, including:

- Radar and satellite information

- Land, sea and aerial search operations

- Search and rescue action plans for relevant countries

- Details of any information required from Malaysia

e. Today, three French officials from the Bureau d'Enquêtes et d'Analyses pour la sécurité de l'aviation civile (BEA) arrived in Kuala Lumpur to help with the search and rescue operation. The officials will share their expertise and knowledge based on their experience from the search for Air France Flight 447.

2. Update on the police investigation into MH370's crew and passengers

a. On Saturday 8 March, the Royal Malaysia Police started investigations into all crew members on board MH370, including the pilot and co-pilot, as well as all ground staff handling the aircraft.

b. On Sunday 9 March, police officers visited the homes of the pilot and co-pilot. Officers also spoke to family members of the pilot and co-pilot.

c. Police visited the homes of the pilot and co-pilot again on Saturday 15 March. The pilot's flight simulator was taken from his house with the assistance of his family. The simulator was re-assembled at police headquarters.
Updated at 5.54pm AEST
6.32pm AEST
The
New Straits Times repor
t about "terrain masking" has just been published in full. The article says that investigators are considering the possibility that the plane dropped to an altitude of just 5,000 feet or potentially even lower to avoid detection:
MAS Airlines flight MH370 dropped to an altitude of 5,000 feet, or possibly lower, to defeat commercial (secondary) radar coverage after it turned back from its Kuala Lumpur-Beijing route on March 8.

Investigators are poring over the Boeing 777-200ER's flight profile to determine if it had flown low and used "terrain masking" during most of the eight hours it was missing from the radar coverage of possibly at least three countries.

Top officials, who make up the technical team that had been holed up from morning till late at night here, are looking at the possibility that the jetliner, carrying 239 people, had taken advantage of the busy airways over the Bay of Bengal. By sticking to commercial routes, the flight may not have raised the suspicion of those manning primary (military) radars of the nations it overflew. To them, MH370 would appear to be just another commercial aircraft on its way to its destination.

"The person who had control over the aircraft has a solid knowledge of avionics and navigation, and left a clean track. It passed low over Kelantan, that was true," said officials.

"It's possible that the aircraft had hugged the terrain in some areas, that are mountainous to avoid radar detection."

This technique is called terrain masking and is used by military pilots to fly to their targets stealthily, using the topography to mask their approach from prying microwaves. This type of flying is considered very dangerous, especially in low-light conditions and spatial disorientation, and airsickness could easily set in. The stresses and loads it puts on the airframe, especially an airliner of the 777's size, are tremendous.
6.39pm AEST
Latest Developments
I'll be handing over our live coverage of the missing plane to Matthew Weaver shortly. The plane has still not been found, but the search operation continues to grow in scope and size. Here's a brief summary of where events currently stand:
Malaysia's ministry of transport says police began investigating the backgrounds of all passengers, crew and ground staff last Saturday, in what appears to be an attempt to stave off growing criticism of their handling of the search.
Three officials from the French aviation authority Bureau d'Enquêtes et d'Analyses have arrived in Kuala Lumpur to lend assistance in the operation based on their experience from the search for Air France flight 447.
There are now 26 countries involved in the rescue operation for flight MH370, and Australia has taken charge of the search operation in the Indian Ocean. Many questions continue to remain unanswered about what happened to the plane, which went missing over a week ago.
The person who transmitted the final message from the plane "all right, good night" may have been aware that one of the communication systems on the plane was shutdown,
adding further weight
to the possibility that the plane was hijacked.