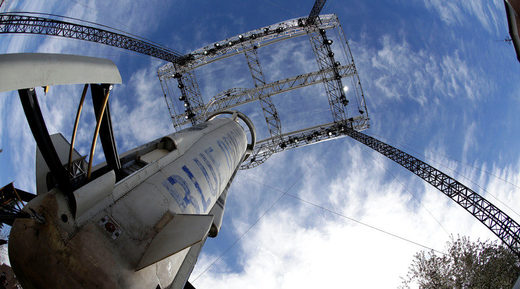 Amazon CEO Jeff Bezos said he is annually selling nearly $1 billion worth of the online retailer to finance his aerospace corporation Blue Origin, which aims to send wealthy travelers to space as early as next year.
"My business model right now for Blue Origin is I sell about a billion a year of Amazon stock, and I use it to fund Blue Origin. So, the business model for Blue Origin is very robust," Bezos said Wednesday at the annual US Space Symposium in Colorado.
Blue Origin initially planned to test 11-minute space rides with passengers this year, but that probably will not happen until 2018, according to the company's founder.
In the long term, the corporation aims to turn itself into a profitable, self-sustaining enterprise and to start
cutting the cost of space flight, making it available to millions of people,
Bezos said.
Bezos owns 80.9 million Amazon shares, and is its largest shareholder, according to data compiled by Reuters. On Wednesday, Amazon ended the trading day at $909.28 per share. To meet the pledge of selling $1 billion worth of Amazon stock, the CEO would have to sell 1,099,771 shares.
At the Space Symposium, Blue Origin has put on display its New Shepard's crew capsule, which has already conducted several unmanned test flights to space and back.
The capsule is able to carry passengers to an altitude of over 60 kilometers above the Earth, so they experience a few minutes of weightlessness as well as observe the curvature of the planet set against the blackness of space. The company has not started selling tickets or set prices for a ride in New Shepard yet.
According to Bezos, the key to cutting the cost of space flights is the reusability of rockets. Blue Origin is
currently developing a second launch system, named New Glenn, to carry satellites and people into orbit
. The system is similar to the Falcon 9 and Dragon capsule, designed by rival company SpaceX.
Development of the New Glenn system will reportedly cost the company about $2.5 billion. But the head of the business said he would spend as much as it takes.
"It's a long road to get there, and I'm happy to invest in it.
My singular focus is people in space. I want humans in space,
" Bezos said.