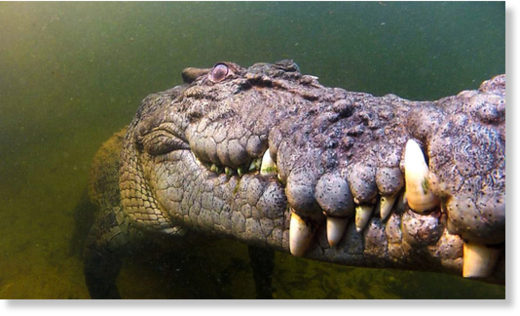 There are renewed calls for a widespread cull of crocodiles in north Queensland after a spearfisherman was killed and a teenager mauled in waters around Innisfail.
Warren Hughes, 35, went missing on Saturday, and a search was sparked after his dinghy and speargun were found off Palmer Point, just north of Innisfail.

Water police pulled his body from the waters south of Palmer Point around 8am on Monday and say initial investigations suggest he was taken by a large crocodile.

It's believed to be the second crocodile attack in two days in far north Queensland.
In a separate incident before dawn on Sunday, a Queensland teen was mauled by a croc after acting on a foolish boast to swim at night in the croc-infested Johnstone River.

He is considered incredibly lucky to be alive and is recovering in hospital after undergoing surgery on his badly mauled arm.
Just last Thursday the government released its updated crocodile management strategy, implementing a single framework for the northern region of the state to replace several existing strategies which had been in place.
Mt Isa MP Robbie Katter said the strategy did not go far enough, and called for a cull before more people are killed.
'There's no question they've got to be culled, nature's got to be brought back in balance,' Mr Katter told AAP.
'To say to someone living in north Queensland 'well just be more careful' that's a very callous statement.'
The weekend's incidents prompted concern from the mayor of the Cassowary Coast, John Kremastos, who told the ABC the area around the Johnstone River used to be safe to swim in.
But despite his concerns with the state government's crocodile management strategy, the mayor said he didn't believe a cull was necessary.
'The biggest concern for us is the negative impact it will have on our tourism and lifestyle' Cr Kremastos said.
'For example, I believe surf lifesaving membership has decreased dramatically, especially in the nipper groups, because parents don't want their kids in the water.
Source: AAP