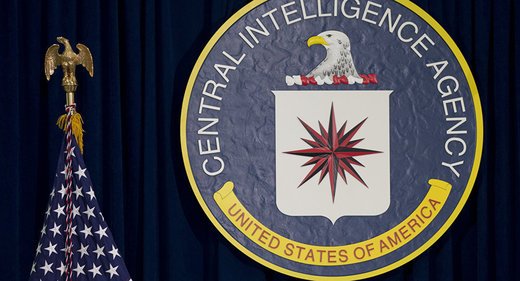 By now, most of you have heard about the largest ever release of confidential CIA documents published by Wikileaks, known as Vault7. Many of you have also read various summaries of what was released, but reading the take of others is not the same as analyzing it yourself. As such, I strongly suggest you check out the original
Wikileaks summary
. It's mostly written for the layperson without much technical expertise (like myself), and I think you'll get a lot out of it.
In this post, I'm going to republish the entire press release, as well as provide key excerpts from the larger summary along with some personal observations. Let's get started...
From
Wikileaks
:
Press Release

Today, Tuesday 7 March 2017, WikiLeaks begins its new series of leaks on the U.S. Central Intelligence Agency. Code-named "Vault 7" by WikiLeaks, it is the largest ever publication of confidential documents on the agency.

The first full part of the series, "Year Zero", comprises 8,761 documents and files from an isolated, high-security network situated inside the CIA's Center for Cyber Intelligence in Langley, Virgina. It follows an introductory disclosure last month of CIA targeting French political parties and candidates in the lead up to the 2012 presidential election.

Recently, the CIA lost control of the majority of its hacking arsenal including malware, viruses, trojans, weaponized "zero day" exploits, malware remote control systems and associated documentation. This extraordinary collection, which amounts to more than several hundred million lines of code, gives its possessor the entire hacking capacity of the CIA. The archive appears to have been circulated among former U.S. government hackers and contractors in an unauthorized manner, one of whom has provided WikiLeaks with portions of the archive.
Lovely. Just lovely.
"Year Zero" introduces the scope and direction of the CIA's global covert hacking program, its malware arsenal and dozens of "zero day" weaponized exploits against a wide range of U.S. and European company products, include Apple's iPhone, Google's Android and Microsoft's Windows and even Samsung TVs, which are turned into covert microphones.

Since 2001 the CIA has gained political and budgetary preeminence over the U.S. National Security Agency (NSA). The CIA found itself building not just its now infamous drone fleet, but a very different type of covert, globe-spanning force — its own substantial fleet of hackers. The agency's hacking division freed it from having to disclose its often controversial operations to the NSA (its primary bureaucratic rival) in order to draw on the NSA's hacking capacities.
This leak might very well be from a competing government agency concerned about the unaccountable power and sloppiness of the CIA, or it could simply be a turf war. It doesn't really matter. What matters is that we have the information, and the more the people know about these out of control, undemocratic agencies, the better.
By the end of 2016, the CIA's hacking division, which formally falls under the agency's Center for Cyber Intelligence (CCI), had over 5000 registered users and had produced more than a thousand hacking systems, trojans, viruses, and other "weaponized" malware. Such is the scale of the CIA's undertaking that by 2016, its hackers had utilized more code than that used to run Facebook. The CIA had created, in effect, its "own NSA" with even less accountability and without publicly answering the question as to whether such a massive budgetary spend on duplicating the capacities of a rival agency could be justified.

In a statement to WikiLeaks the source details policy questions that they say urgently need to be debated in public, including whether the CIA's hacking capabilities exceed its mandated powers and the problem of public oversight of the agency. The source wishes to initiate a public debate about the security, creation, use, proliferation and democratic control of cyberweapons.

Once a single cyber 'weapon' is 'loose' it can spread around the world in seconds, to be used by rival states, cyber mafia and teenage hackers alike.

Julian Assange, WikiLeaks editor stated that "There is an extreme proliferation risk in the development of cyber 'weapons'. Comparisons can be drawn between the uncontrolled proliferation of such 'weapons', which results from the inability to contain them combined with their high market value, and the global arms trade. But the significance of "Year Zero" goes well beyond the choice between cyberwar and cyberpeace. The disclosure is also exceptional from a political, legal and forensic perspective."

Wikileaks has carefully reviewed the "Year Zero" disclosure and published substantive CIA documentation while avoiding the distribution of 'armed' cyberweapons until a consensus emerges on the technical and political nature of the CIA's program and how such 'weapons' should analyzed, disarmed and published.

Wikileaks has also decided to redact and anonymise some identifying information in "Year Zero" for in depth analysis. These redactions include ten of thousands of CIA targets and attack machines throughout Latin America, Europe and the United States. While we are aware of the imperfect results of any approach chosen, we remain committed to our publishing model and note that the quantity of published pages in "Vault 7" part one ("Year Zero") already eclipses the total number of pages published over the first three years of the Edward Snowden NSA leaks.

Analysis

The increasing sophistication of surveillance techniques has drawn comparisons with George Orwell's 1984, but "Weeping Angel", developed by the CIA's Embedded Devices Branch (EDB), which infests smart TVs, transforming them into covert microphones, is surely its most emblematic realization.
Recall the 2015 post:
A Very Slippery Slope - Yes, Your Samsung Smart TV Can Listen to Your Private Conversations
The attack against Samsung smart TVs was developed in cooperation with the United Kingdom's MI5/BTSS. After infestation, Weeping Angel places the target TV in a 'Fake-Off' mode, so that the owner falsely believes the TV is off when it is on. In 'Fake-Off' mode the TV operates as a bug, recording conversations in the room and sending them over the Internet to a covert CIA server.

As of October 2014 the CIA was also looking at infecting the vehicle control systems used by modern cars and trucks. The purpose of such control is not specified, but it would permit the CIA to engage in nearly undetectable assassinations.
Recall another 2015 post:
Here's What Happens When Hackers Shut Down a Jeep's Engine Going 70mph on a Highway
The CIA's Mobile Devices Branch (MDB) developed numerous attacks to remotely hack and control popular smart phones. Infected phones can be instructed to send the CIA the user's geolocation, audio and text communications as well as covertly activate the phone's camera and microphone.

Despite iPhone's minority share (14.5%) of the global smart phone market in 2016, a specialized unit in the CIA's Mobile Development Branch produces malware to infest, control and exfiltrate data from iPhones and other Apple products running iOS, such as iPads. CIA's arsenal includes numerous local and remote "zero days" developed by CIA or obtained from GCHQ, NSA, FBI or purchased from cyber arms contractors such as Baitshop. The disproportionate focus on iOS may be explained by the popularity of the iPhone among social, political, diplomatic and business elites.

A similar unit targets Google's Android which is used to run the majority of the world's smart phones (~85%) including Samsung, HTC and Sony. 1.15 billion Android powered phones were sold last year. "Year Zero" shows that as of 2016 the CIA had 24 "weaponized" Android "zero days" which it has developed itself and obtained from GCHQ, NSA and cyber arms contractors.

These techniques permit the CIA to bypass the encryption of WhatsApp, Signal, Telegram, Wiebo, Confide and Cloackman by hacking the "smart" phones that they run on and collecting audio and message traffic before encryption is applied.

The CIA also runs a very substantial effort to infect and control Microsoft Windows users with its malware. This includes multiple local and remote weaponized "zero days", air gap jumping viruses such as "Hammer Drill" which infects software distributed on CD/DVDs, infectors for removable media such as USBs, systems to hide data in images or in covert disk areas ( "Brutal Kangaroo") and to keep its malware infestations going.

In the wake of Edward Snowden's leaks about the NSA, the U.S. technology industry secured a commitment from the Obama administration that the executive would disclose on an ongoing basis — rather than hoard — serious vulnerabilities, exploits, bugs or "zero days" to Apple, Google, Microsoft, and other US-based manufacturers.

Serious vulnerabilities not disclosed to the manufacturers places huge swathes of the population and critical infrastructure at risk to foreign intelligence or cyber criminals who independently discover or hear rumors of the vulnerability. If the CIA can discover such vulnerabilities so can others.
This is key. Ostensibly, the justification for the CIA's existence is to protect the public. In light of these revelations, it appears the agency does more harm than good by failing to alert major technology companies of major security flaws. Instead, it keeps these vulnerabilities alive to exploit them for whatever shadowy means they choose. Where is the oversight of such decisions?
The U.S. government's commitment to the Vulnerabilities Equities Process came after significant lobbying by US technology companies, who risk losing their share of the global market over real and perceived hidden vulnerabilities. The government stated that it would disclose all pervasive vulnerabilities discovered after 2010 on an ongoing basis.

"Year Zero" documents show that the CIA breached the Obama administration's commitments. Many of the vulnerabilities used in the CIA's cyber arsenal are pervasive and some may already have been found by rival intelligence agencies or cyber criminals.

As an example, specific CIA malware revealed in "Year Zero" is able to penetrate, infest and control both the Android phone and iPhone software that runs or has run presidential Twitter accounts. The CIA attacks this software by using undisclosed security vulnerabilities ("zero days") possessed by the CIA but if the CIA can hack these phones then so can everyone else who has obtained or discovered the vulnerability. As long as the CIA keeps these vulnerabilities concealed from Apple and Google (who make the phones) they will not be fixed, and the phones will remain hackable.

The same vulnerabilities exist for the population at large, including the U.S. Cabinet, Congress, top CEOs, system administrators, security officers and engineers. By hiding these security flaws from manufacturers like Apple and Google the CIA ensures that it can hack everyone &mdsh; at the expense of leaving everyone hackable.
The above highlights the most important takeaway from this whole document dump. Due to its capability to hack anyone on the planet, the CIA is in practice able to blackmail anyone they want, including our "representatives" in Congress, many of whom probably have a lot of skeletons in their closets they don't want out. As such, these capabilities allow for the creation of an unelected intelligence complex dictatorship in the shadows.
The American people will never be free until we deal with this issue once and for all.
Cyber 'weapons' are not possible to keep under effective control.Cyber 'weapons' are in fact just computer programs which can be pirated like any other. Since they are entirely comprised of information they can be copied quickly with no marginal cost.

Securing such 'weapons' is particularly difficult since the same people who develop and use them have the skills to exfiltrate copies without leaving traces — sometimes by using the very same 'weapons' against the organizations that contain them. There are substantial price incentives for government hackers and consultants to obtain copies since there is a global "vulnerability market" that will pay hundreds of thousands to millions of dollars for copies of such 'weapons'. Similarly, contractors and companies who obtain such 'weapons' sometimes use them for their own purposes, obtaining advantage over their competitors in selling 'hacking' services.

To attack its targets, the CIA usually requires that its implants communicate with their control programs over the internet. If CIA implants, Command & Control and Listening Post software were classified, then CIA officers could be prosecuted or dismissed for violating rules that prohibit placing classified information onto the Internet. Consequently the CIA has secretly made most of its cyber spying/war code unclassified. The U.S. government is not able to assert copyright either, due to restrictions in the U.S. Constitution. This means that cyber 'arms' manufactures and computer hackers can freely "pirate" these 'weapons' if they are obtained. The CIA has primarily had to rely on obfuscation to protect its malware secrets.

The CIA's hand crafted hacking techniques pose a problem for the agency. Each technique it has created forms a "fingerprint" that can be used by forensic investigators to attribute multiple different attacks to the same entity.

This is analogous to finding the same distinctive knife wound on multiple separate murder victims. The unique wounding style creates suspicion that a single murderer is responsible. As soon one murder in the set is solved then the other murders also find likely attribution.

The CIA's Remote Devices Branch's UMBRAGE group collects and maintains a substantial library of attack techniques 'stolen' from malware produced in other states including the Russian Federation.
Think about the above the next time an anonymous intelligence official tells you they know it was the Russians who "hacked the election."
With UMBRAGE and related projects the CIA cannot only increase its total number of attack types but also misdirect attribution by leaving behind the "fingerprints" of the groups that the attack techniques were stolen from.
Now here's a rallying cry for journalists across the world to get to work.
Has WikiLeaks Already 'Mined' All the Best Stories?

No. WikiLeaks has intentionally not written up hundreds of impactful stories to encourage others to find them and so create expertise in the area for subsequent parts in the series. They're there. Look. Those who demonstrate journalistic excellence may be considered for early access to future parts.

Won't other journalists find all the best stories before me?

Unlikely. There are very considerably more stories than there are journalists or academics who are in a position to write them.
While I look forward to reading future stories uncovered by enterprising journalists, the above provides enough information for the American public be sufficiently alarmed to reign in this rogue agency and any other agencies that directly put the public at risk. If they're harming us more than they're helping us, why do they exist in the first place?