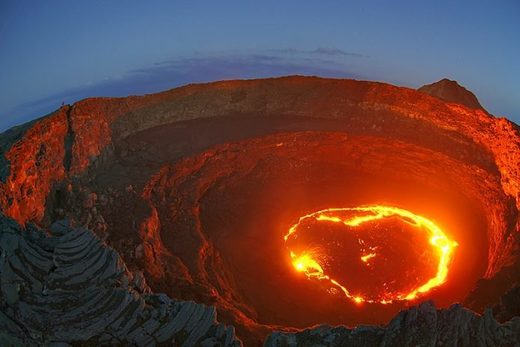 The world's famous active volcano and molten lava lake of the Afar Regional Sates of Ethiopia, Erta-Ale, is
flowing out of its crater for the first time in a decade
says Addis Ababa University.
The unusual happening was made public today by Professor Gezahegn Yirgu of the Addis Ababa University Department of Geology.
The molten lava crater is a famous destination for tourists and scientists both from home and abroad. It has been flowing in large amount over for a week now, said the professor.
According to the professor, the molten lava has filled another crater and flowing further south wards towards Afdera town. It the flowing continues, it disrupts life in the area. That needs a serious scrutiny in the area, he said.
The professor also noted that at the right side of the road to Erta-Ale, a new happening has been observed;
lava is coming out of a new depression in the area.
Unusual incident has been reported by officials of in the region and residents apart from satellite imagery collected to analyze the new geographical happening in the area, said the professor.
The area is far from inhabited area of the region. In that, it cannot cause harm to individuals and livestock, he said.
According to the professor, the unusual event needs to be documented. He called up on the media to play their part in doing so, he said.
Such happening occurred a decade ago, he said.
Head of Regional Disaster Risk Management Bureau, Abdi Nur, told Walta Information Center that he has heard about the incident but no causalities has been caused by the overflowing of the lava lake.
Lava lakes are large volumes of molten lava, usually basaltic, contained in a volcanic vent, crater, or broad depression. The term is used to describe both lava lakes that are wholly or partly molten and those that are solidified.