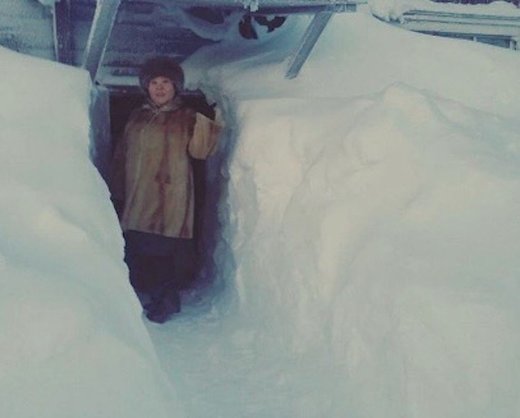 In the Kuzbass Mountains it is possible to dip your head in the snow.
At the meteorological station "Central Mine"
snow depth has reached 188 cm (6′-2″).
In the region of the Volga and Central Russia, average snow depth exceeds 40 cm (16 inches). In Nizhny Novgorod snow depth is 43 cm and in Tambov it is 44cm. In Samara and Kirov, snow depth has reached a half meter (19 inches)! For comparison, the normal amount of snow for this time of year is 25-35 cm (10-14 inches).
Due to frequent snowstorms in the Lipetsk region, the capital set a record in floodplain areas - 85 cm (33 inches)!
Thirty-three inches. That's waist deep!
Beyond the Urals there is even more snow. The region of Omsk recorded 75 cm (2½ ft) of snow (Tevriz), while the region of Tomsk reported 92 cm(3 ft) (Bakchar).
Traditionally, a large amount of snow is observed in Kamchatka and polar Yakutia. In the village Chokurdakh, the snow measures 166 cm (5′-5″).
The absolute snowfall leader in Russia is the alpine weather station Sochi, with more than 220 cm (just over 7 ft).
An unusually large amount of snow for January is observed across Central and Eastern Europe. Belarus has more than 30 cm (12 inches), while the western Ukraine boasts up to 60 cm (24 inches). All the Baltic States, Poland, the Czech Republic and Germany, are covered in snow. The Balkans have not seen this much snow in several years.
Thanks to Martin Siebert for this
link
.