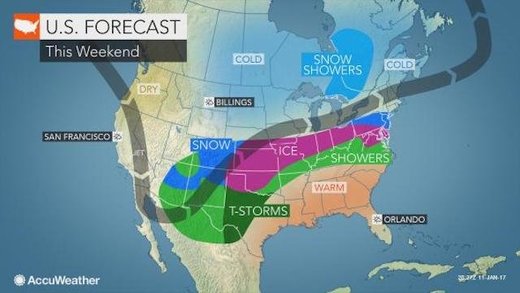 People from Texas to Ohio are bracing for a long-duration ice storm that could turn destructive and cut power to hundreds of thousands from Friday to Sunday.
A shallow layer of cold air in the atmosphere will accompany a storm over the central United States.
The storm will produce a swath of freezing rain along a 1,000-mile swath. As the chilled rain falls on cold surfaces, it will freeze into a glaze of ice.
Untreated sidewalks, streets and highways can turn into a skating rink as a layer of clear, smooth ice forms. The heaviest rain can wash away ice-melting compounds as the storm progresses.
Preceding the main ice storm will be a period of freezing rain and sleet that affect travel in northern Illinois and southern Wisconsin during Wednesday night. "Travel is likely to be hazardous for hundreds of miles along Interstate 35, I-40 and I-70 in the Central states from Friday to Sunday," according to AccuWeather Meteorologist Brett Rossio.
People traveling across the country may want to consider a more southern route.
Where temperatures remain below freezing and rain falls at a heavy rate, the ice will continue to accrue for a few days. Ice of 1/4 to 1/2 of an inch thick can occur over a broad area.
The thickness of the ice will become substantial enough to weigh down trees and power lines.
"In some areas, the weight of the ice combined with increasing wind later on during the storm could bring down many trees and power lines," according to AccuWeather Lead Storm Warning Meteorologist Eddie Walker.
Cities likely to experience dangerous conditions with possible power outages include Amarillo, Texas; Wichita and Topeka, Kansas; Kansas City and St. Louis, Missouri; Springfield, Illinois; Indianapolis; and Columbus and Dayton, Ohio.
"The worst conditions may be centered on portions of northwestern Texas, western Oklahoma and central Kansas, where there is the potential for about an inch of ice to encase the region followed by 30-mph winds," Walker said.

"The ice storm could rival that of late January and early February of 2002 in the region," Rossio said. The power could be out for days in some communities of the southern and central Plains during and in the wake of the storm.
The ice storm into the weekend could have an impact on the NFL Playoff game between the Steelers and Chiefs in Kansas City, even if temperatures rise above freezing in time for the game on Sunday.
A couple of degrees Fahrenheit will mean the difference between a dangerous buildup of ice and plain rain with wet roads.
Cities that will teeter on the southern edge of the ice versus rain storm include Lubbock, Texas; Oklahoma City and Tulsa, Oklahoma; Springfield, Missouri, and Cincinnati, Ohio. While ice may not hit these communities, it may not be far to the north and west where icing is an issue.
On the northern edge of the storm, the air may be too cold and dry for much freezing rain. However, there is the possibility of a period or two of wintry mix and slippery conditions in cities such as Dodge City, Kansas; Omaha, Nebraska; Des Moines, Iowa; Chicago and Cleveland from Saturday to Sunday.
The same setup will cause rain, ice and snow with slippery travel to extend
into part of the Northeast this weekend
.
On the southern edge of the storm, severe thunderstorms could erupt in parts of Texas and Oklahoma on Sunday as warmer air surges in from the Gulf.