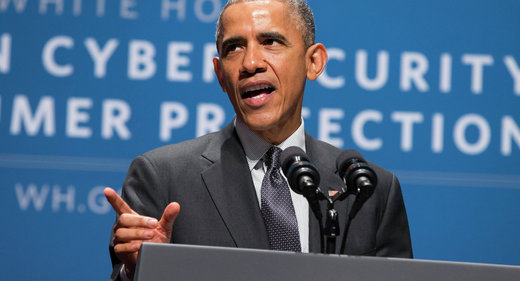 The farce is complete.
One week after a
joint FBI/DHS report was released
, supposedly meant to prove beyond a reasonable doubt that Russia intervened in the US presidential election, and thus served as a diplomatic basis for Obama's expulsion of 35 diplomats, yet which merely confirmed that a Ukrainian piece of malware which could be purchased by anyone, was responsible for spoofing various email accounts including that of the DNC and John Podesta, moments ago US intelligence agencies released a more "authoritative",
25-page
report, titled "
Assessing Russian Activities and Intentions in Recent US Elections
", and which not surprisingly only serves to validate the media narrative, by concluding that Russian President Vladimir Putin '
ordered
' an effort to influence U.S. presidential election.
Specifically, the report concludes the following:
We assess Russian President Vladimir Putin ordered an influence campaign in 2016 aimed at the US presidential election. Russia's goals were to undermine public faith in the US democratic process, denigrate Secretary Clinton, and harm her electability and potential presidency. We further assess Putin and the Russian Government developed a clear preference for President-elect Trump. We have high confidence in these judgments.
We also assess Putin and the Russian Government aspired to help President-elect Trump's election chances when possible by discrediting Secretary Clinton and publicly contrasting her unfavorably to him. All three agencies agree with this judgment.
At this point a quick detour, because the intel agencies responsible for drafting the report then explain how "confident" they are: "
CIA and FBI have high confidence in this judgment; NSA has moderate confidence
."
What do these distinctions mean?
High confidence generally indicates judgments based on high-quality information, and/or the nature of the issue makes it possible to render a solid judgment. However, high confidence judgments still carry a risk of being wrong.
Moderate confidence generally means credibly sourced and plausible information, but not of sufficient quality or corroboration to warrant a higher level of confidence.
In other words, while not carrying the infamous DHS disclaimer according to which last week's entire joint FBI/DHS report is likely garbage, the US intel agencies admit they may well be "wrong."
Going back to the report, we then read:
Moscow's approach evolved over the course of the campaign based on Russia's understanding of the electoral prospects of the two main candidates. When it appeared to Moscow that Secretary Clinton was likely to win the election, the Russian influence campaign began to focus more on undermining her future presidency.
Further information has come to light since Election Day that, when combined with Russian behavior since early November 2016, increases our confidence in our assessments of Russian motivations and goals.
Moscow's influence campaign followed a Russian messaging strategy that blends covert intelligence operations—such as cyber activity—with overt efforts by Russian Government agencies, state-funded media, third-party intermediaries, and paid social media users or "trolls." Russia, like its Soviet predecessor, has a history of conducting covert influence campaigns focused on US presidential elections that have used intelligence officers and agents and press placements to disparage candidates perceived as hostile to the Kremlin.
Russia's intelligence services conducted cyber operations against targets associated with the 2016 US presidential election, including targets associated with both major US political parties.
We assess with high confidence that Russian military intelligence (General Staff Main Intelligence Directorate or GRU) used the Guccifer 2.0 persona and DCLeaks.com to release US victim data obtained in cyber operations publicly and in exclusives to media outlets and relayed material to WikiLeaks.
Russian intelligence obtained and maintained access to elements of multiple US state or local electoral boards. DHS assesses that the types of systems Russian actors targeted or compromised were not involved in vote tallying.
Russia's state-run propaganda machine contributed to the influence campaign by serving as a platform for Kremlin messaging to Russian and international audiences.
We assess Moscow will apply lessons learned from its Putin-ordered campaign aimed at the US presidential election to future influence efforts worldwide, including against US allies and their election processes.
Or, as some have stated, just a regurgitation of already existing opinions and absolutely zero facts.
Some more highlights:
Moscow's influence campaign followed a Russian messaging strategy that blends covert intelligence operations—such as cyber activity—with overt efforts by Russian Government agencies, state-funded media, third-party intermediaries, and paid social media users or "trolls."
We assess Russian intelligence services collected against the US primary campaigns, think tanks, and lobbying groups they viewed as likely to shape future US policies. In July 2015, Russian intelligence gained access to Democratic National Committee (DNC) networks and maintained that access until at least June 2016.
Russian Propaganda Efforts. Russia's state-run propaganda machine—comprised of its domestic media apparatus, outlets targeting global audiences such as RT and Sputnik, and a network of quasi-government trolls—contributed to the influence campaign by serving as a platform for Kremlin messaging to Russian and international audiences. State-owned Russian media made increasingly favorable comments about President-elect Trump as the 2016 US general and primary election campaigns progressed while consistently offering negative coverage of Secretary Clinton.
Then here is the direct accusation of Wikileaks:
We assess with high confidence that the GRU relayed material it acquired from the DNC and senior Democratic officials to WikiLeaks. Moscow most likely chose WikiLeaks because of its self-proclaimed reputation for authenticity. Disclosures through WikiLeaks did not contain any evident forgeries.
Oddly enough, there is nothing in the report about the latest narrative change of "go-betweens" linking Putin with Wikileaks, but it has a whole lot of "judgments" on RT...
RT's coverage of Secretary Clinton throughout the US presidential campaign was consistently negative and focused on her leaked e-mails and accused her of corruption, poor physical and mental health, and ties to Islamic extremism. Some Russian officials echoed Russian lines for the influence campaign that Secretary Clinton's election could lead to a war between the United States and Russia.
In August, Kremlin-linked political analysts suggested avenging negative Western reports on Putin by airing segments devoted to Secretary Clinton's alleged health problems.
On 6 August, RT published an English-language video called "Julian Assange Special: Do WikiLeaks Have the E-mail That'll Put Clinton in Prison?" and an exclusive interview with Assange entitled "Clinton and ISIS Funded by the Same Money." RT's most popular video on Secretary Clinton, "How 100% of the Clintons' 'Charity' Went to...Themselves," had more than 9 million views on social media platforms. RT's most popular English language video about the President-elect, called "Trump Will Not Be Permitted To Win," featured Assange and had 2.2 million views.
... and "trolls." And this is where it gets really funny:
Russia used trolls as well as RT as part of its influence efforts to denigrate Secretary Clinton. This effort amplified stories on scandals about Secretary Clinton and the role of WikiLeaks in the election campaign.
The likely financier of the so-called Internet Research Agency of professional trolls located in Saint Petersburg is a close Putin ally with ties to Russian intelligence.
A journalist who is a leading expert on the Internet Research Agency claimed that some social media accounts that appear to be tied to Russia's professional trolls—because they previously were devoted to supporting Russian actions in Ukraine—started to advocate for President-elect Trump as early as December 2015.
Then there are pearls like this, exposing the Russian "anti-fracking troll army" whose every move is orchestarted by the RT masterminds: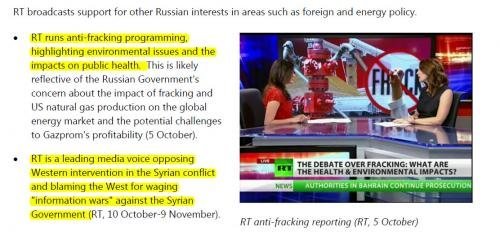 ... who are to blame for everything that is wrong with US democracy because they have more YouTube watchers: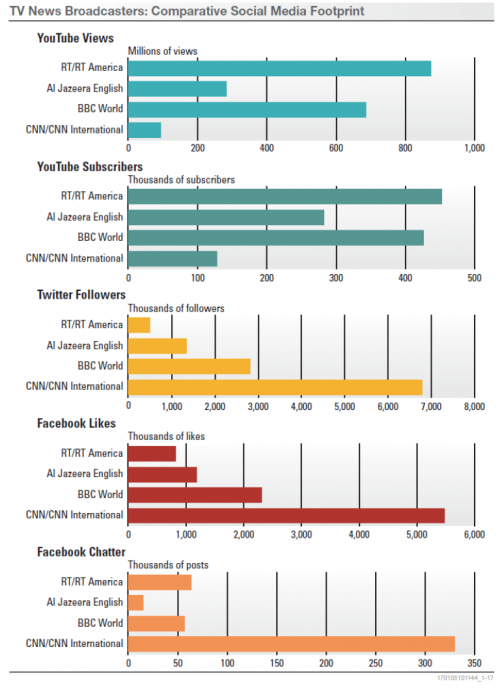 One almost wonders:
is RT's audience really that much greater than the that of NBC, ABC, Fox, CBS, MSNBC, CNN etc to overpower all of US media?
That's rhetorical. While readers can make up their own mind about the report, here is Glenn Greenwald's quick take:
There is much more in the full report, although unfortunately, no actual proof (
link to report
).