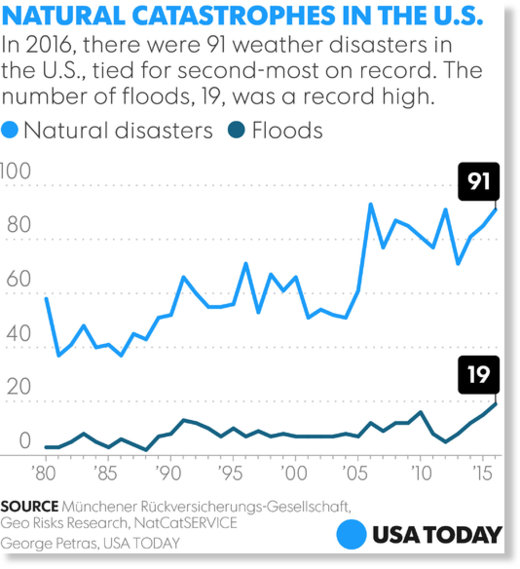 2016 really was the year of the flood in the U.S.:
In total, 19 separate floods swamped the nation last year, the most in one single year since records began in 1980.
This is according to an analysis by Munich Re, a global reinsurance firm.
The worst flood was in August in Louisiana. At least 13 people were killed and roughly 60,000 buildings were destroyed. The disaster cost $10 billion, Munich Re reported, which noted it was the worst natural catastrophe in the U.S. since Hurricane Sandy in 2012.
"We had a lot of severe flash floods in heavily developed areas," said meteorologist Mark Bove of Munich Re.
Other major flood disasters in 2016 included those in West Virginia in June, Houston in April and Maryland in July. "We did get very unlucky" last year, Bove said.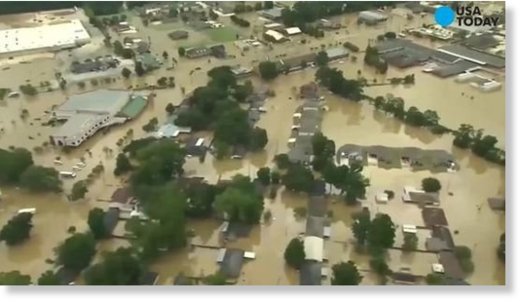 The 19 floods in 2016 were an increase from 2015, when there were 15.
Overall, there were 91 weather, climate or geological disasters in the U.S. in 2016, the second-most on record, Munich Re said. This includes severe storms, hurricanes, wildfires, earthquakes, heat waves and droughts.
To qualify as one of Munich Re's disasters, or "loss events" as the firm calls them, the event must cause at least one death or at least $3 million in damage.
In 2015, there were 85 disasters in the U.S.
Across the North American continent,
160 natural disasters were reported, which was the most on record.
In the U.S., "losses due to thunderstorms events are increasing," Bove said.
Globally, there were 750 disasters, the highest number in four years,
Munich Re said. Global disasters cost $175 billion in 2016, of which only $50 billion was insured.
The world's costliest natural disasters in 2016 were a pair of earthquakes in Japan in April (which cost $31 billion) and floods in China in June and July ($20 billion).
Hurricane Matthew's rampage through the Caribbean and the U.S. was third, at $10.2 billion.
Source: USA Today