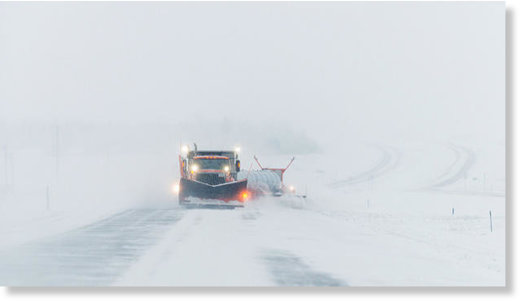 The North Dakota Department of Transportation and Highway Patrol have closed eastbound and westbound Interstate 94 from Mandan to Dickinson because of the winter snowstorm affecting most of central and western North Dakota.
In South Dakota, Interstate 90 was closed in the northern Black Hills from Rapid City to Spearfish.
On the 94-mile stretch of interstate from Mandan to Dickinson,
the patrol said parts are blocked with heavy snow drifts along with extremely icy and snow compacted stretches. The patrol also said there was near zero visibility at times creating hazardous driving conditions.
The portion of the interstate was expected to remain closed throughout Tuesday night
There were also "no travel advisories" in effect for most of the roads and highways throughout the central part of the state from north to south including Bismarck, Mandan, Minot and surrounding areas. NDOT said most of the western North Dakota roadways were covered with ice or compacted snow.
"Most of the heavier stuff is going to be Minot southward to Bismarck," Rick Krolak of the National Weather Service in Bismarck said about Tuesday's snow..
Besides the interstate and other highways, a number of schools, businesses and county offices were forced to close.
Bismarck and Mandan school districts and numerous others canceled school Tuesday as well as several afternoon and evening activities. Many school districts were to remain closed Wednesday due to the weather.
United Tribes Technical Colleges remained closed all day Tuesday, while the University of Mary closed at 2 p.m. and Bismarck State College closed at 3 p.m.
The Morton County Library and the Morton County Courthouse were closed all day. Burleigh County offices, excluding emergency services, closed early Tuesday.
The Kirkwood Mall in Bismarck remained open for most of the day Tuesday, but finally closed at 5 p.m. due to to the heavy and wet snow, which caused difficult driving conditions.
"Some of the evening associates were having a hard time getting in, so we decided due to the forecast that we should probably close," said Joe DuPerre, general manager of the mall.
In 30 years, the mall has only closed about six times for half the day, and twice for an entire day, DuPerre said.
The winter storm continued into its second day Tuesday, dropping a total of 11 to 14.5 inches in some areas of Bismarck, according to the National Weather Service
. Snowfall continued into Tuesday night, piling on an additional 2 to 5 inches.
Much of western and central North Dakota saw more than 10 inches of snow Tuesday. As of Tuesday afternoon, Van Hook Park in New Town had 18 inches of snow, and Lansford in Bottineau County had 12.5 inches.
The snow and strong winds are expected to taper off, with only light snow expected.
In Minot, police were asking that drivers exercise extreme caution while traveling within the city. Police Capt. John Klug said there were a number of problem areas around the city where vehicles have gotten stuck in deep snow or unable to move due to icy roadways.
It wasn't quite as bad farther into the northwest corner of the state.
The season's first major storm blanketed Williston with about half a foot of snow causing few disruptions other than a string of minor crashes on local roads.
Williston police were called to at least 17 fender-benders between Monday afternoon and Tuesday on account of slippery streets, Patrolman Josh Hilgart said.
The Highway Patrol attributed nearly 10 crashes on Williams County highways to the weather. No injuries were reported from the mishaps, which included minor rollovers, and vehicles sliding off the road and into each other.
Conditions were horrible in western South Dakota, too. State officials closed that Interstate 90 stretch between Spearfish and Rapid City on Tuesday afternoon. However, a stretch near Rapid City opened again about 6 p.m. on Tuesday.
Officials with the South Dakota Departments of Transportation and Public Safety reported at least one multiple vehicle accident
, along with white-out conditions with zero to near zero visibility, icy roads and drifting snow are making safe travel almost impossible along this stretch of I-90.
Snow and strong winds are not expected to die down until later in the day on Wednesday and it will take time to clear the roadway.
Officials are also cautioning drivers in other areas of the state that strong winds of 30-40 mph and gusts up to 50 mph are making travel extremely difficult, especially for semi-trucks and other high profile vehicles. Winds were expected to hit 60 mph Tuesday night in Rapid City and Hermosa.
Winter maintenance has been suspended in some areas where it is too dangerous for the plows to be on the roadway.
The Williston Herald and Bismarck Tribune contributed to this report