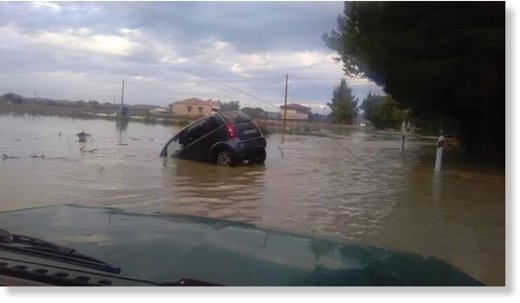 Parts of Greece recorded heavy rain during a series of storms that began late Saturday 26 November, 2016. The heavy rain has also affected northwestern Turkey, in particular Çanakkale province.
Greece
The Fire Service in Greece reported that one man died in floods on the island of Zakynthos (Zante), part of the Ionian Islands in western Greece.
Flooding has left homes damaged, schools closed and traffic disrupted throughout the island.
Flooding also affected parts of Attica, including the country's capital city Athens, where several underground stations and roads have been closed.
A further storm on Monday 28 November brought yet more heavy rain and local media report that some areas of Zakynthos have recorded over 200 mm rain since Sunday.
Fire service officials said that they received 470 calls (390 in Attica, 80 in Zakynthos) for assistance in a 16 hour period on Sunday, mostly with requests for pumping flood water, rescuing stranded drivers and evacuating people to safer locations.
At least four flood rescues were carried out by emergency crews in Attica and 16 flood rescues in Zakynthos after people were trapped in their vehicles on flooded roads.
The man found drowned on Zakynthos had been missing for several hours. His body was found in the Vanato area of Zakynthos.
On Tuesday, parts of the North Aegean region also saw heavy rain causing some damage to homes and disruption to traffic on the island of Lesbos.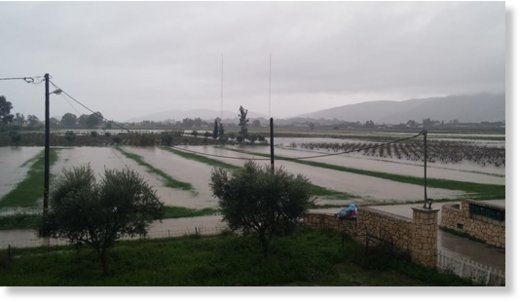 Rainfall, 24 hour period
27 to 28 November 2016 (figures approx.).
Mytilini Airport - 111.0 mm
Zakinthos - 66.0 mm
Andravida Airport - 64.0 mm
26 to 27 November 2016 (figures approx.).
Zakinthos - 87 mm
25 to 26 November 2016 (figures approx.).
Zakinthos - 35.0 mm