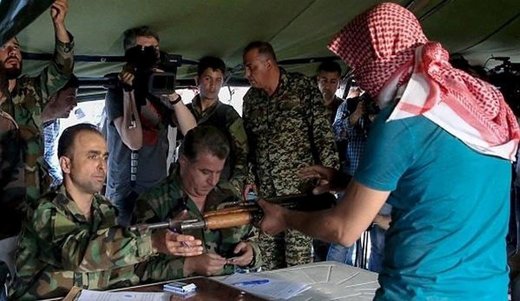 The Syrian authorities granted amnesty to over 160 wanted militants in Northern Homs who had turned themselves in and handed over their weapons.
According to Amnesty Law No. 15 for 2016, the cases of over 160 militants in al-Rastan, Talbiseh, Tal Kalakh and a number of villages in Northern territories of the province were processed.
Last week, Syrian Army soldiers and popular forces launched fresh large-scale offensives to take back the key town of Talbiseh in Northern Homs. "Syrian government forces struck at the first defense line of the terrorists in Ayoun al-Hossein.
The Syrian Air Force and artillery units for their part targeted terrorists' centers in Ayoun al-Hossein," the sources said.
"Terrorists have thus far suffered tens of casualties in the attacks," they added.
"The Syrian soldiers have also stormed the terrorists' gatherings in Ein Issa al-Janoubiyeh and Joureh al-Hasyan in Northern Homs, destroying several machinegun-equipped vehicles," the source added.