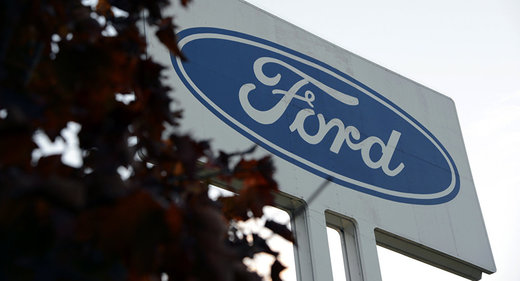 As US manufacturing data for September turned out to be a disappointment, Ford announced temporary lockouts on two more US plants, and two in Mexico this month and in early November -
their once-popular F-model pickup trucks do not sell anymore.
Mere weeks after Ford shut down its Mustang factory in a suburb of Detroit, MI, Ford Motor Company announced it would idle four more factories due to lackluster demand for pickup trucks.
The facilities in Louisville, KY, as well as two plants in Mexico, will shut down this week, while a factory in Kansas City will stop operating for seven days starting next week. On 31 October, the Louisville factory will close for another seven days, Ford said.
The outlook for Ford, one of America's legendary top carmakers, is grim, as the strong dollar and an influx of cheaper imports are slashing demand for the US-made motorcars.
But even the imported vehicles are hardly in demand, as evidenced by the Mexican facilities' lockouts.
Slowing US auto sales are only part of the broader picture: US industrial production added just 0.1pc in September due to a lack of efficient demand and challenges posed by international trade.
"It is hard to have a full-blown, strong economic expansion if the manufacturing sector is hurting and that has been the case this year," Joel Naroff of Holland, PA-based Naroff Economic Advisers said.
Ford said on Monday they will cut production of the cult favorite F-150 pickup truck due to a lack of sales. The forced layoffs in the coming weeks will idle some 13,000 workers, of whom 4,000 are in Mexico, and 9,000 are in the US.
Most workers will continue to be getting paid as negotiated by the unions, but should the lockouts become a regular occurrence, the chances are that these people will join the ranks of the unemployed or end up out of the workforce.
"Just imagine how many more automobile jobs will be lost if the TPP is actually approved," GOP presidential nominee Donald Trump said while campaigning in Michigan earlier this month. "You're going to lose all your jobs."
Sales of F-series pickups declined 2.6pc in September amid the price war between pickup truck manufacturers. Ford has been struggling to compete in the downward price adjustment against the manufacturers that use cheaper labor and are facing less governmental regulations, such as Toyota and Honda - which are also supported by a weaker national currency, and are capitalizing on the trade deals that continue to hamper the US economy. "We said we expected the overall retail industry to decline in the second half of the year," Ford representative Kelli Felker stated. "We also said to expect to see some production adjustments in the second half — this is one of them." Sales of Ford Fusions declined 18pc, Ford Escape sales slumped 12pc, and Fiesta sales crashed in flames, spiraling 40pc in September.
Such dynamics suggest prolonged turmoil for Ford, as the company has a
93-day stockpile of F-series vehicles to be shipped to the market,
while car retailers are also saturated with domestic and imported vehicles. Price decreases are all but impossible for Ford, as wages have stagnated for the American workers for many years. However, the workforce expenses are high when the regulatory burden is factored in.
Ford announced in September that its profits will decline next year, adding to the earnings bloodbath in corporate America - average corporate earnings have been in the red since mid-2015. Ford's pre-tax profit expectations for this year were lowered to $10.2 bln from $10.8 bln. The shutdowns will result in workers with over one year of experience receiving 80pc of their normal paycheck during the lockout days, jointly paid by Ford and the US taxpayers in unemployment benefits. There is no detail reported of any compensation for the workers in Mexico. Overall US motor vehicle and parts production advanced 0.1pc in September, and the output of machinery and metals declined.