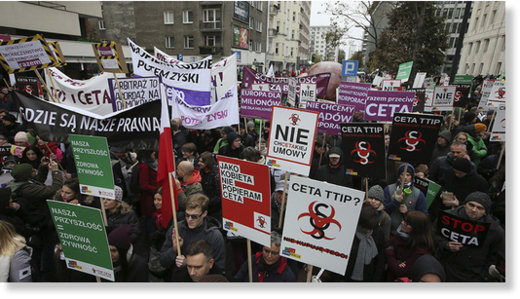 Thousands of protesters took to the streets of Paris, Warsaw, and Madrid, urging their governments to reject the TTIP and CETA free-trade agreements with the US and Canada.
Some 7,000 people demonstrated in the Polish capital of Warsaw on Saturday, RIA Novosti reported.
Expressing disapproval of the Transatlantic Trade and Investment Partnership (TTIP) with the US and the strikingly similar Comprehensive Economic and Trade Agreement (CETA) deal with Canada, protesters marched in central Warsaw near the country's Agriculture Ministry building and prime minister's offices.
People carried banners that called the deals "
toxic
," "
threatening to local agriculture
" and a "
dictatorship of corporations
." People opposing the deals also fear that genetically modified products might appear on local markets.
Organized by a non-governmental group, Akcja Democracja, the Warsaw protest was joined by trade unions and several opposition parties. The Polish parliament has recently adopted a plan towards the deal, having pronounced CETA economically "
neutral
," with no reasons not to join it.
In France, collectively, over 40,000 people took to the streets in more than 30 cities, according to TASS.
The largest protest was organized in Paris, with people demanding the French government follow their neighbors in Belgium, where lawmakers from a French-speaking region of Wallonia recently voted against the CETA deal.
While Paris suspended talks with Washington over TTIP, the CETA agreement might still get the green light in France, with Prime Minister Manuel Valls having said the deal is "
legally balanced
." EU ministers supporting the agreement with Canada argue that it is favorable for Europe, as it would create new jobs, improve trade and free the bloc of almost all tariffs and customs duties.
Spaniards also took to the streets to voice their discontent with the free trade agreements. Several hundred people protested in Madrid on Saturday against the deals which they see as a direct path to poverty.
Demonstrators carried banners reading "
these are not international treaties, these are coups!
" and "
we are people, not commodities.
"
Some protesters tied themselves up with yellow Styrofoam chains to demonstrate the enslavement which, in their opinion, the agreements would inevitably lead to, while others dressed up as financial tycoons.
Brussels might sign the CETA deal with Ottawa by the end of this month, with an EU-Canada summit scheduled to take place on October 27. For it to be ratified, the agreement must be signed by all 28 EU bloc members, and approved by national parliaments.