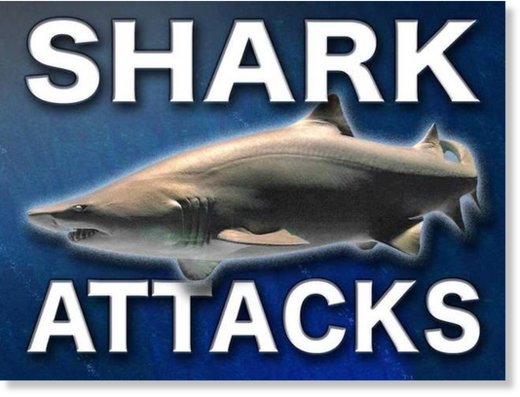 All beaches in Ballina on the New South Wales north coast are closed after a man was bitten by a shark while surfing,
the sixth attack in 21 months in the area.
The attack has caused a backdown from the premier, Mike Baird, who has resisted the idea of shark nets on north coast beaches has now announced he will lobby for them to be installed.
The 25-year-old man was bitten at Sharpes beach at Ballina on Wednesday morning while surfing with two mates, after he felt a bump on his board and fell into the water.
He suffered a small wound to his lower right leg and went to Ballina hospital, police said.
All beaches in the Ballina shire have been shut for 24 hours and authorities are trying to determine what type of shark was involved.
The attack comes less than two weeks after
17-year-old Cooper Allan was mauled by a great white at Ballina's Lighthouse beach.
There have been six shark attacks at Ballina shire beaches since January last year, including one that killed a Japanese surfer, Tadashi Nakahara.
Another surfer who was out in the water when the attack happened said the 25-year-old was "very lucky" and warned people to stay out of the water.
"A guy just got hit by a shark 50 metres from me at sharpes spot x ... Do not surf there today. Check his board! he is OK ... and VERY lucky!!!" Scott Crump wrote on social media.
"They are everywhere right now! I was only in the water 40 mins ... so rattled ... I would have been next in line on the buffet for that shark!"
After the attack on Cooper the state government announced up to 100 "smart" drumlines would be placed along the NSW coastline with the focus on the northern beaches in a bid to keep swimmers safe.
Baird said he would lobby his federal counterparts to install shark nets on the state's far north coast after another attack after
resisting the idea for more than a year.
He said it was clear there were strong views on shark attack mitigation in the area, but the mood was shifting.
"Ultimately we get to the point where we have to prioritise human life over everything," he told parliament.
"Certainly the sentiment in that local community has shifted. It was against nets, no doubt about it. The recent attacks have started to shift that, and there is a move and a change within that community."
Baird said he would write to the federal government asking for a six-month trial of shark nets on north coast beaches.
"In relation to the far north coast, there are extraordinary circumstances that have happened there," he said. "We have to respond; we will be responding."
Baird said his government would continue to trial other shark attack protection measures while pushing for the nets.
Source: Australian Associated Press