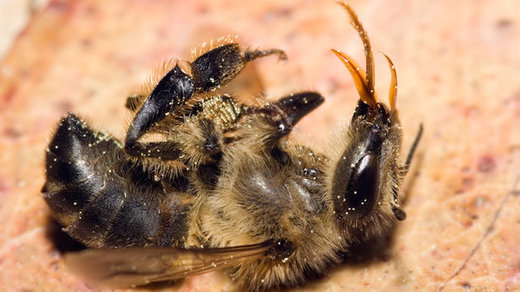 Agrochemical giants Syngenta and Bayer
discovered in their own tests that their pesticides caused severe harm to bees
, according to
unpublished documents
obtained through a Freedom of Information Act (FOIA) request by the environmental group Greenpeace.
The companies conducted the trials on products that used the controversial pesticides known as neonicotinoids, or neonics, which have
long been linked
to rapid bee decline. Neonics are also the world's most commonly used pesticide.
According to their own studies, Syngenta's thiamethoxam and Bayer's clothianidin were found to cause severe harm at high levels of use, although the effect was lessened when used under 50 parts per billion (ppb) and 40ppb respectively, the
Guardian
reports
.
However, as Greenpeace notes, the
research "assumes a very narrow definition of harm to bee health and ignores wild bees which evidence suggests are more likely to be harmed by neonicotinoids."
That means the findings may "substantially underestimate" the impact of neonics, Greenpeace said.
Still, the studies are significant not just for the admission of risk to bees, which help pollinate three-quarters of the world's food supply, but
also because they expose the agrochemical industry's disregard for environmental and food security concerns
, experts said.
"If Bayer and Syngenta cared about the future of our pollinators, they would have made the findings public. Instead, they kept quiet about them for months and carried on downplaying nearly every study that questioned the safety of their products. It's time for these companies to come clean about what they really know," Greenpeace's Ben Stewart told the
Guardian
.
Professor Dave Goulson of the University of Sussex added, "Given all the debate about this subject, it is hard to see why the companies don't make these kinds of studies available. It does seem a little shady to do this kind of field study—
the very studies the companies say are the most important ones—and then not tell people what they find."
Matt Shardlow, executive director of the nonprofit Buglife, also said, "These studies
may not show an impact on honeybee health [at low levels], but then the studies are not realistic.
The
bees were not exposed to the neonics that we know are in planting dust, water drunk by bees and wildflowers, wherever neonics are used as seed treatments.
This secret evidence highlights the profound weakness of regulatory tests."
Neonics have been banned at some levels throughout the European Union and are
somewhat regulated
in the U.S., but continue to be sold throughout the world. A recent study by the Intergovernmental Science-Policy Platform on Biodiversity and Ecosystem Services (IPBES), a body formed by the United Nations,
found
that more than 40 percent of invertebrate species like bees and butterflies face extinction threats at the local level.