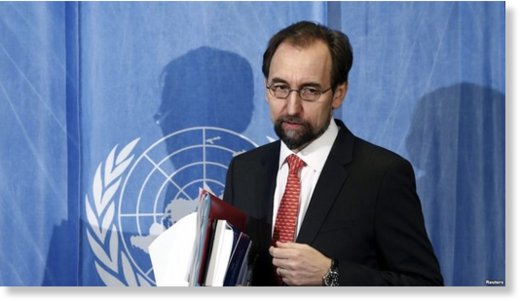 The UN high commissioner for human rights has called for "extraordinary steps" to halt the "ghastly avalanche of violence and destruction" in Syria's northern city of Aleppo, urging the Security Council to introduce a limit on its members' veto power.
The Security Council should "adopt criteria to restrain members from using the veto when there are serious concerns that war crimes, crimes against humanity, or genocide may have been committed," Zeid Ra'ad al-Hussein said in an October 4 statement.
Limiting the veto power of the council's five permanent members would make it possible to refer the situation in Syria to the International Criminal Court in The Hague, Hussein added.
Previous efforts to make such a referral have been vetoed by Russia, a key ally of Syrian President Bashar al-Assad.
Aleppo has come under heavy aerial bombardment since the end of a cease-fire two weeks ago.
On October 3, the United States said it was suspending talks with Russia on Syria, accusing Moscow of having "failed to live up" to its commitments under the truce deal.
Moscow said it regretted the U.S. move, accusing it of shifting the blame for the collapse of the cease-fire.
Based on reporting by AFP, AP, Reuters, and dpa