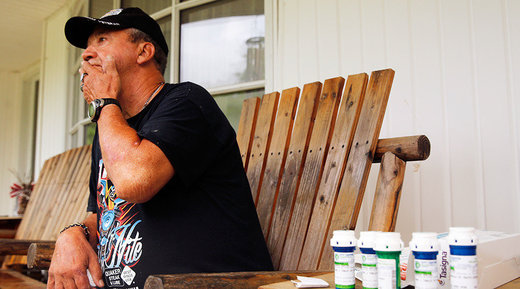 A projected 604,000 US veterans will not have health insurance in 2017, according to a new report. About 327,000 of those live in states that have not expanded Medicaid in accordance with the Affordable Care Act.
Thanks in part to the Affordable Care Act (ACA), or Obamacare, this projected number of uninsured veterans would still be lower than the more than 700,000 who went without insurance in 2014, the
report
, released by the Urban Institute, found. The law's Medicaid provisions have helped boost the number of insured vets, according to the report. Nineteen states have yet to expand Medicaid.
"If Medicaid expansion decisions do not change between now and 2017, we project that approximately 604,000 veterans will be uninsured in 2017 and that 54 percent will be living in states that have yet to expand Medicaid," the report said.
Between 2013 and 2014, the ACA's Medicaid expansion provisions resulted in an increase in insurance among veterans and their families living in states that chose to broaden Medicaid.
"Most uninsured veterans and their families lived in states not participating in the expansion in 2014 — 60 percent of uninsured veterans and 66 percent of their uninsured family members lived in one of the 25 nonexpansion states in 2014," the report said.
The report added that in 2017, "for the 277,000 projected uninsured veterans in the 32 Medicaid expansion states, 70 percent are expected to qualify for either Medicaid or subsidized marketplace coverage, while 30 percent would not be eligible for any financial assistance under the ACA."
Even with Medicaid expansion, about 84,000 of these veterans will fall into the coverage or assistance gap, referring to those whose income is too high to qualify for Medicaid in their state and too much to qualify for federal subsidies from the Obamacare health exchanges.
The 2017 outlook is more grim for the projected 327,000 uninsured veterans living in the 19 states controlled by Republicans that have not expanded Medicaid under the ACA, the report found.
"We estimate that just 39 percent will have financial assistance available through Medicaid or subsidized marketplace plans, while 38 percent would fall into the assistance gap and would only qualify for Medicaid if their state were to expand," the report said of those 327,000.
Some uninsured veterans may qualify for [Department of Veterans Affairs] care, but not all take up the available coverage or meet the eligibility requirements, which are based on service-connected disability status, veteran discharge status, income, and other factors," the report said.
Just more than 9 percent of the US population did not have health insurance last year, according to the US Census Bureau. That is compared to 16 percent that did not have insurance in 2010, the year the ACA was passed. Veterans also benefitted.
"Between 2013 and 2015, the un-insurance rate for non-elderly veterans fell by an estimated 42 percent, declining from 11.9 percent in 2013 to 8.5 percent in 2014, and falling further to 6.8 percent in 2015, according to the National Health Interview Survey," researchers wrote.
"Over this time, veterans also experienced fewer unmet health needs, suggesting that increased coverage translated into improved access to care."