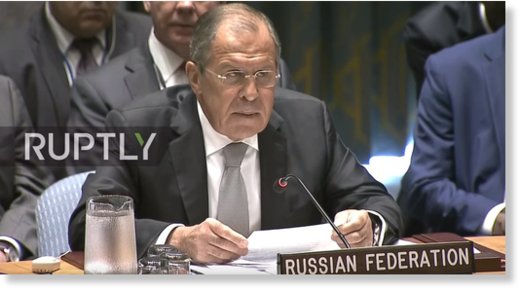 It's crucial to avoid the collapse of the US-Russia agreements on Syria, meaning a fair and impartial investigation of the Aleppo and Deir ez-Zor incidents is needed, Russian Foreign Minister Sergey Lavrov said at the UN General Assembly in New York.
"
The main thing now is to prevent the collapse of those arrangements [between Russia and the US], objectively and impartially investigate the undermining incidents in Deir ez-Zor and Aleppo, particularly, that there's many who want to sabotage the agreed approaches to the Syrian settlement,
" Lavrov said during the general debate at the 71st Regular Session of the United Nations General Assembly in New York.
Earlier in September, US-led coalition planes bombed Syrian government troops in Deir ez-Zor, and a few days later a UN humanitarian convoy was attacked in Aleppo.
The minister stressed that "
it's essential to fulfill the UN Security Council [UNSC] demand to dissociate the so-called moderate opposition from the terrorists. Here, special responsibility rests with the US and the members of their coalition
."
"
Their refusal or inability to do this in the present circumstances can't but strengthen the suspicion that it's being attempted to remove Jabhat al-Nusra out of harm's way and that the plans for a regime change are still on the table
," he said, adding that it would be a "
grave violation
" of the UNSC resolution.