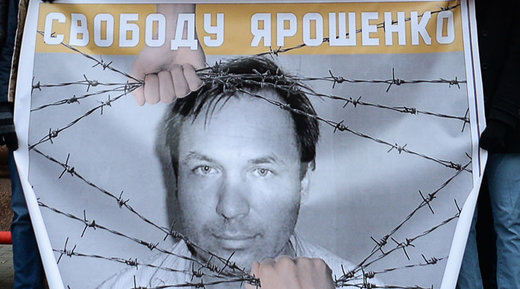 The mother of Russian pilot Konstantin Yaroshenko addressed US President Barack Obama with a letter asking him to show mercy and return her son, who is currently serving a 20-year sentence in New Jersey's Fort Dix prison, to Russia.
The woman, Lyubov Yaroshenko, told
Izvestia Daily
that she would exhaust all means to have her son returned to Russia, and even after failing to receive justice from the US court system, she still hopes that Nobel Peace Prize laureate Barack Obama will help her.
"American lawyers have spent a whole year gathering proof that my son is not guilty or complicit in crimes he was convicted of.
There are irrefutable facts that prove that the sentence passed by Judge Jed Rakoff was a mistake.
I am confident that the truth will sooner or later become public and this will cast a shadow on the United States that declares itself a state with the rule of law with obligations to protect human rights all over the world," Yaroshenko wrote in her letter.
She added that she was seriously concerned about her son's health which was rapidly deteriorating and, in Yaroshenko's own words, this has happened because of the poor prison conditions and inadequate medical assistance.
"As a mother I am praying to the Almighty to guide you, dear mister president to the path of mercy to my son who is dying in custody. I am praying that you receive the God's blessing that is higher and more precious than the Nobel Prize on the day that Konstantin Yaroshenko gets to his native land, by your humane presidential will," Lyubov Yaroshenko wrote.
She also reminded the US leader that Russian President Vladimir Putin had helped to secure the release of US citizen Kevin Dawes from detention in Syria at the request of the US, and the whole world expressed great respect for this humanitarian act. In comments to
Izvestia
, the woman added that she hoped President Obama would understand her grief and added that she was ready to walk to Washington on foot if this would help her son get back home.
Yaroshenko was sentenced to 20 years in jail in the United States in 2011 for allegedly participating in a conspiracy to smuggle drugs into the country.
The charges against him, however, are based on the testimony of US agents who launched a sting operation against him.
He was arrested in Liberia and was flown to the US without any official extradition procedure, despite protests from Russia over alleged violations of the diplomatic code.
The pilot himself has always maintained his innocence, and insisted from the very beginning that his case was not about drug trafficking. He says his poor command of English prevented him from understanding the nature of the suggestions made to him by undercover DEA agents.
Yaroshenko's defense team has repeatedly stated that the whole scheme was organized by US special services in an attempt to extract evidence against Russian citizen Viktor Bout
, the owner of a transport company, who was also illegally extradited to the US and sentenced after a DEA sting operation.
In May this year, Yaroshenko told the press that he would no longer appeal to American courts, as he considered them biased and politicized, and did not expect justice.