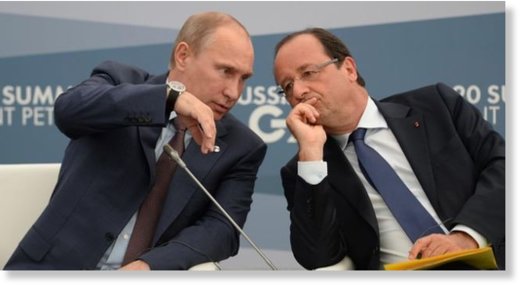 French President Francois Hollande has called for an end to European Union sanctions against Russia over the crisis in Ukraine amid growing dissent in the 28-nation bloc on the restrictive measures.
During his annual address to the French ambassadors at the Elysée Palace in Paris on Tuesday, Holande, whose country was previously a staunch supporter of the anti-Moscow bans, described them as "an obstacle to many economic projects."
The French leader further said the crisis in Ukraine changed the relations between Russia and Europe and caused damage to both sides.
"The effects of the Ukraine crisis have to end in relation to Russia and the members of Europe. This situation is, to me, highly damaging because it comes with a high cost for those and other [actors], all actors," said Hollande.
He added that the removal of the sanctions is "in all of our interests to get out as fast and in the best way possible, of this type of relation."
"This has a high price and complicates the dialogue," the president stressed.
Hollande made the comments a day after German Chancellor Angela Merkel said she had "the very greatest interest in stopping sanctions" against the Kremlin.
Merkel also said her country, the biggest European economy, was ready to ask the EU to remove the bans against Russia if pro-Moscow forces operating in east Ukraine remain committed to peace.
The West's sanctions against Russia were initially introduced after the Black Sea Crimean Peninsula declared independence from Ukraine and voted for reunification with the Russian Federation in March 2014.
In June, EU officials said they would extend the sanctions to the end of January 2017.
Washington and its European allies accuse Moscow of destabilizing Ukraine. Moscow, however, rejects having a hand in the crisis gripping the Eastern European state.
Ukraine's eastern provinces of Donetsk and Luhansk have witnessed deadly clashes between pro-Moscow forces and the Ukrainian army since Kiev launched military operations in April 2014 to crush pro-Moscow protests there. The crisis has left around 9,400 people dead and over 22,000 others injured.
Kiev and pro-Russian forces signed two peace deals in Minsk, Blarus, in 2014, but the agreements have failed to contain the violence, with both sides trading accusations of breaking the truce.