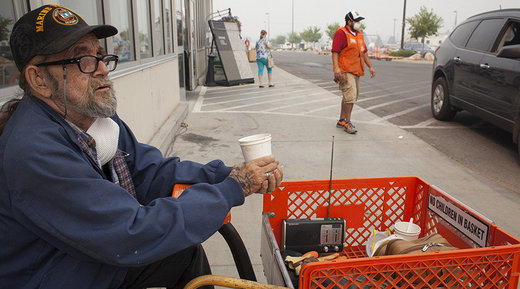 The Obama administration's six-year effort to completely eradicate veteran homelessness
has met half of its goal
, reducing it by 47 percent. However, despite coordinated federal, state and local efforts,
40,000 veterans are still homeless
.
"
[We've] got to keep fighting for the dignity of every veteran
. And that includes ending the tragedy, the travesty of veterans' homelessness," said commander in chief, Barack Obama, before an audience at the Disabled American Veterans annual convention in Atlanta, Georgia on Monday. "Two states, Virginia and Connecticut, as well as 27 cities and towns across the country have effectively ended veteran homelessness."

Comment: Obama is right. But doesn't it speak volumes that there was a problem in the first place? What kind of country treats its soldiers like this? First they send them off to fight in illegal wars of aggression, then throw them to the wolves if they manage to come back alive. There's no dignity in being cannon fodder for the Empire.


The White House goal was to eradicate veteran homelessness over five years under an initiative known as Opening Doors, launched in 2010 and involving federal and state actors and nonprofit organizations and institutions. The administration spent $16 billion the program, and increase the overall Veterans Affairs budget by 85 percent,
according to
the
Washington Times
.
The Department of Housing and Urban Development
estimated
that fewer than 40,000 veterans were homeless on any given night in January 2016, 47 percent less than 2010. Of those they found 13,000 were living in the streets, representing a 56 percent drop in six years.
VA and HUD programs have assisted more than 360,000 veterans get into housing or avoid becoming homeless, according to the White House.
The goal faced obstacles, as
200,000 service members become veterans every year
.
The strategy of the Opening Doors program was multi-faceted: It bolstered transitional and permanent housing, but also provided services such as mental health, addiction service and chronic disease management, and gave housed veterans ways to avoid falling back into homelessness.
"This is really looking at not just managing homelessness but moving homeless veterans into permanent housing and keeping them in that permanent housing with case management and case support," Thomas O'Toole, the director of the US Department of Veteran Affairs' National Center on Homelessness among Veterans,
told
The Christian Science Monitor
. "That represents, I think, a significant change."
At the heart of the program is the HUD-VASH voucher program for rental assistance for veterans, which has seen bipartisan support in Congress.
"Oftentimes, housing was kind of earned. So you'd step your way through places: You'd do well in an emergency shelter, then you'd work your way to transitional, then you'd work your way into housing," Matt Leslie, the director of housing development for veterans in Virginia's Department of Veterans Services told the Monitor. "But that was leaving some of the really vulnerable people with potential mental illness, substance abuse, they'd just get left out.... My belief is a housing plan should be started on Day 1."
Even with veteran homelessness dropping 17 percent from January 2015 to January 2016, the administration did not reach its goal to eradicate homelessness.
"The truth is that the president missed his own goal of zero homeless veterans by 2015," Paul Reickhoff, CEO and founder of Iraq and Afghanistan Veterans of America said in a statement,
according to
Stars and Stripes. "He has also failed to reach his goal of ending the VA backlog by the beginning of 2016 - which still stands at over 70,000 today."
"VA funding increases are extremely helpful," he added. "But as we've seen over the last few years as funding has repeatedly increased, funding alone will not fix the VA."