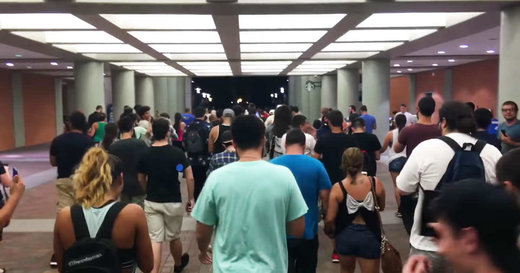 Players of Pokemon Go are not only giving up their right to act like sane human beings in public, as they walk around, zombie-esque, reaching into the phones held in front of their faces, they are also likely to be waiving legal rights if they don't take a very close look at Niantic Labs'
Terms of Service
for the game.
As spotted earlier by
The Consumerist
, an arbitration notice states that
Pokemon Go users automatically agree to waive their rights to any future trial by jury or class action lawsuit unless they opt out of a binding clause in the T&Cs...
ARBITRATION NOTICE: EXCEPT IF YOU OPT OUT AND EXCEPT FOR CERTAIN TYPES OF DISPUTES DESCRIBED IN THE "AGREEMENT TO ARBITRATE" SECTION BELOW, YOU AGREE THAT DISPUTES BETWEEN YOU AND NIANTIC WILL BE RESOLVED BY BINDING, INDIVIDUAL ARBITRATION, AND YOU ARE WAIVING YOUR RIGHT TO A TRIAL BY JURY OR TO PARTICIPATE AS A PLAINTIFF OR CLASS MEMBER IN ANY PURPORTED CLASS ACTION OR REPRESENTATIVE PROCEEDING.
To opt out of the legal rights waiver, users need to email termsofservice@nianticlabs.com or can send regular mail to 2 Bryant St., Ste. 220, San Francisco, CA 94105.
But the opt out process is only valid if exercised within 30 days following the date a user first accepted the T&Cs.
Having a short opt-out window for legal rights embedded within T&Cs which the vast majority of users won't read before clicking 'I agree' and rushing into their neighbor's garden to try to catch a pikachu is a very aggressive stance.
Binding arbitration means a private dispute resolution process, heard outside a courtroom, with
individual users having to mount their own cases — rather than having the ability to band together in a class action, for example, if there is a data breach which affects multiple users in the same way.
Only individual actions brought to small claims courts and actions seeking injunctive or equitable relief pertaining to IP infringement rights are unaffected.
The rules under which any arbitration would take place are specified as those of the
American Arbitration Association
— "in accordance with the Commercial Arbitration Rules and the Supplementary Procedures for Consumer Related Disputes", albeit with some Niantic specific modifications. Safe to say,
private arbitration is a restrictive route for redress that clearly disadvantages consumers.
We've asked Niantic Labs for comment on the arbitration clause and will update this post with any response.
As previously noted, Pokemon Go also requires
extensive app permissions
to run. And the Pokemon Go
privacy policy
states the company may share aggregated data with third parties, and identifiable user data with law enforcement agencies and other parties for a range of reasons it deems appropriate.
The privacy policy further notes that in the event of a sale of Niantic users would need to opt out of having their data disclosed/transferred to the third party acquirer — again with only a 30 day window to do so:
Information that we collect from our users, including PII [personally identifiable information], is considered to be a business asset. Thus, if we are acquired by a third party as a result of a transaction such as a merger, acquisition, or asset sale or if our assets are acquired by a third party in the event we go out of business or enter bankruptcy, some or all of our assets, including your (or your authorized child's) PII, may be disclosed or transferred to a third party acquirer in connection with the transaction. In the event of such a transaction, we will give you notice of the transaction and the opportunity for a period of 30 days to refuse disclosure or transfer of your (or your authorized child's) PII to the third party acquirer in connection with the transaction.
So, as ever when it comes to
T&Cs
, the devil is in the overlooked detail.
Gotta catch all those catches!