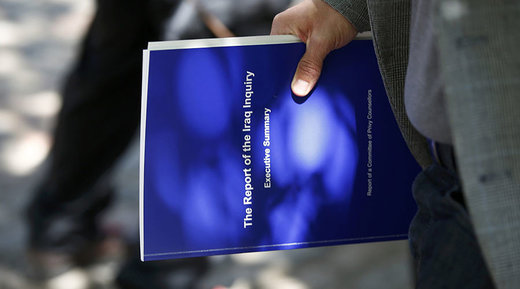 The long-awaited findings of Sir John Chilcot's inquiry into the invasion of Iraq by Britain in 2003 were finally published on Wednesday.
It has taken seven years, £10 million (US$ 13 million) and 2.6 million words to investigate whether it was right and necessary for the UK to invade Iraq, and whether the UK could and should have been better prepared for what followed.
RT has identified some of the main points of the report.
'Military action was not a last resort'
Britain chose to join the invasion of Iraq in 2003 before peaceful options for disarmament had been exhausted, and military action was "not a last resort," the Chilcot Inquiry has found.
The report says there was no imminent threat from Iraq's dictator Saddam Hussein in 2003.
"Intervention may have been needed at some point but in March 2003, there was no imminent threat from Saddam Hussein," Chilcot says.
The report says then-Prime Minister Tony Blair deliberately exaggerated the threat posed by the Iraqi regime as he sought to make the case for military action to MPs and the public. Blair had disregarded warnings about the potential consequences of military action and relied too heavily on his own beliefs, Chilcot says.
In July 2002, well over six months before the invasion of Iraq, Blair wrote to then-US President George Bush promising him that the UK would be there with him "whatever," Chilcot says.
He says Britain should not have gone along with US wishes when they did not necessarily match its own.
"The UK's relationship with the US has proved strong enough over time to bear the weight of honest disagreement. It does not require unconditional support where our interests or judgements differ."
British government 'undermined authority' of security council
Blair urged Bush to take the issue of Iraq to the UN in 2002, Chilcot says.
Resolution 1441 was adopted by the UN Security Council, which provided for any breaches by Iraq to be reported to the council. But in December 2002, Bush decided UN weapons inspectors would not achieve the desired result.
Bush agreed to push for a second UN resolution, but by March 12, 2003, it was clear there was no security council support for this. Most members of the security council at the UN could not be convinced that peaceful actions had been exhausted.
Blair accepted a US military timetable for action by mid-March 2003, the report said, while at the same time publicly blaming France for failing to support a second UN resolution in the security council authorizing military action.
"Mr Blair and Mr Straw [the former foreign secretary] blamed France for the 'impasse' in the UN and claimed that the UK government was acting on behalf of the international community to uphold the authority of the security council," Chilcot says.
"In the absence of a majority in support of military action, we consider that the UK was, in fact, undermining the security council's authority."
Weapons of Mass Destruction presented 'with a certainty that was not justified'
Chilcot says the severity of the threat posed by Iraq's weapons of mass destruction were "presented with a certainty that was not justified."
By March 2003, Attorney General Lord Goldsmith, the government's most senior legal adviser, said there was on balance a secure basis for military action without a second UN resolution, according to Chilcot.
Goldsmith asked Blair to confirm that Iraq had committed further material breaches as per 1441, the first UN resolution, and Blair did so the next day.
However, the precise terms on which he did so "are not clear," says Chilcot.
Chilcot says it is now clear that policy on Iraq was made "on the basis of flawed intelligence and assessments. They were not challenged and they should have been."
He says this was one of several cases in which a crucial issue should have been considered by Cabinet, but wasn't.
Chilcot says the inquiry has not expressed a view on whether military action was legal, as that must be resolved by a properly constituted and internationally recognized court.
"We have, however, concluded that the circumstances in which it was decided there was a legal basis for UK military action were far from satisfactory."
UK forces were ill-prepared
Chilcot has called the war a "failure," saying the UK's military involvement in Iraq ended with the "humiliating decision" to strike deals with enemy militias because British forces were seriously ill-equipped.
The inquiry has found British forces lacked essential equipment such as armored patrol vehicles and helicopters.
The Ministry of Defence planned the invasion in a rush and was slow to react to security threats on the ground, particularly the use of IEDs that killed so many troops, the report says.
Chilcot says "the government failed to achieve its stated objectives."
Post-war planning: Blair should have known what might happen
Chilcot says plans for Iraq after Saddam Hussein were inadequate.
"Despite explicit warnings, the consequences of the invasion were under-estimated. The planning and preparations for Iraq after Saddam Hussein were wholly inadequate," Chilcot says.
He says Blair should have anticipated the post-invasion problems.
"Mr Blair told the inquiry that the difficulties encountered in Iraq after the invasion could not have been known in advance.
"We do not agree that hindsight is required. The risks of internal strife in Iraq, active Iranian pursuit of its interests, regional instability, and Al-Qaeda activity in Iraq, were each explicitly identified before the invasion."
Chilcot says Blair also overlooked the threat the invasion would pose to Britain.