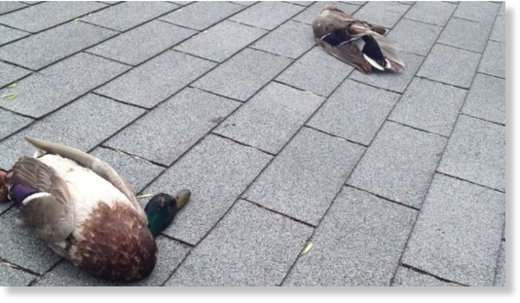 No visible sign of injury to 6 mallards in Regina neighbourhood
A huge crack of lightning was followed by multiple "thumps" on a Regina roof Saturday night — and when the sun came up, there were dead ducks all around.
It happened around 9:30 p.m. CST on the 3400 block of Portnall Ave. in the south end of the city.
A storm was underway and for several minutes there was intense thunder and lightning.
After one particularly brilliant flash of lightning, the ducks dropped from the sky, neighbours said.

Three landed on a roof and three more ended up in yards in the area.
Neighbours said there was no obvious sign of injury to the mallards, so it's still not clear what killed them.
'Microburst' may have been cause: professor
A University of Regina biology professor says there are two likely possibilities: electrocution or a sudden downdraft caused by a "microburst" that slammed the birds to the ground.
"There's an awful lot of ducks around the neighbourhood and they're flying together," Daniel Gagnon said. "Whatever happened hit them all together, whether it's electricity from the lightning bolt or just a microburst that changed the air pressure."
The downdraft is a more plausible explanation, but short of dissecting the mallards and examining the organs, it's impossible to know for sure, he added.
"It's probably going to remain a mystery," he said.