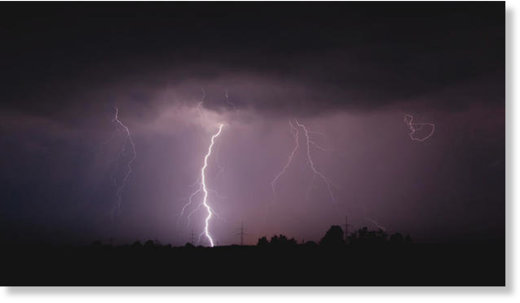 With the arrival of monsoons, lightning struck various parts of Madhya Pradesh in last 24 hours, killing seven people and injuring over 15.
Two people died in Harda district in two separate incidents after lightning struck them on Monday. Fifty-five -year-old Arvind Vishnoi, a former journalist, died at Neem village when lightning struck him, while 19-year old Kamlesh Pawar died in Chidgoan, where two other people were also injured.
In Bhind district's Jamuha village, 40- year-old Prema Devi died in an agriculture field when lightning struck her on Monday. In Gwalior's Bara Gaon , lightning claimed the life of 16-year-old Mukesh Nath while he was working in a field.
In Rajgarh district, 58-year-old Champa Bai died while lightning struck her when she was going from Untpura to Rajpura.
In Nazirabad area of Bhopal, 24-year-old Dinesh Ahirwar died when struck by lightning on Monday.
On Sunday evening , one person died and 11 sustained burn injuries when lightning struck a dozen people who took refuge under a banyan tree in Damoh district on Sunday evening.
The incident occurred at Biji village under Madiadoh police station in Damoh district. Four persons, who are said to be in a critical state, have been referred to Jabalpur.
Sources said on Sunday evening some youths were playing cricket at Biji village while others were watching them. Then it began to rain with thunderstorm and lighting. The villagers took shelter under a large banyan tree. But lighting struck the tree itself. Villagers rushed to their help and the injured were taken to Hata Community Health Centre. Thirty-six-year old Dashrath was declared brought dead, while four were referred to Jabalpur district hospital. Seven others were admitted at Hata hospital where they are undergoing treatment.