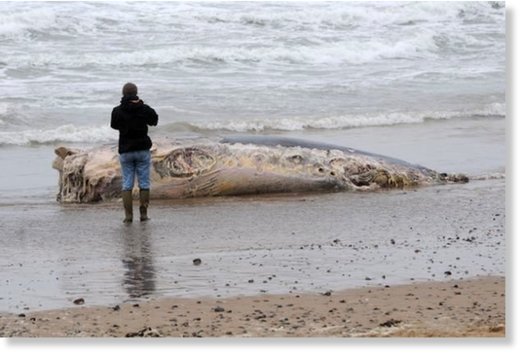 People are being warned to stay away from a breach after the body of a dead whale washed up on the sand.
The Humber Coast Guard said the small mammal is thought to have been dead for some time as it was starting to decompose on Marske beach, East Cleveland.
Tim Burns, from New Marske, spotted the whale, which is about 12 to 15 foot long, in the water at around 7am as he was walking his dog.
He said: "We were just walking along when I noticed something floating in the shallow water.
"I wasn't sure what to think at first, I thought it might have been a small overturned boat, but as I got closer I could see the colours and shape of a whale.
"It's a shame really."
A spokeswoman for the coast guard said they received reports of a "deceased whale" on the beach at 9am.
She added that the council were to be informed of the incident to enable disposal of the whale,
reports the Gazette.
Dave Cocks, from the Redcar RNLI, warned people to stay away from the scene.
He said: "There is a natural curiosity for people to see this sort of thing, however I would urge people to stay away as they high tide isn't until 11.50am.
"The high winds are extremely strong today, so I advise people to be careful down there."
Coastguard has now cordoned off the beach near the whale and are standing guard to ensure no one goes near it.
They have no idea when it will be moved or how they will do it at present.
Dog walker Helen Boland from Redcar spotted the whale as she walked her mum's two dogs.
Helen, 36, said: "We went down there about 9.40am and saw the whale in the sea."
"Its face and flippers have been eaten off. You can see its teeth."