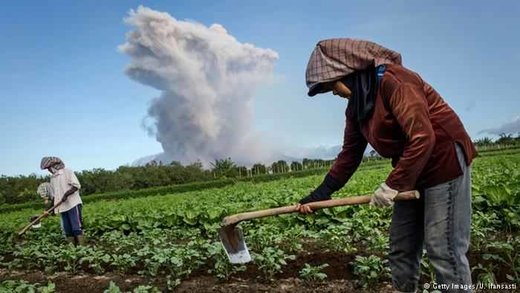 Three people have been killed and four critically injured after a volcano erupted in Indonesia. More than a dozen people have been killed and thousands displaced since the volcano sprung back to life in 2010.
The highly active Mount Sinabung on the island of Sumatra spewed gas and ash high into the atmosphere and surrounding area on Saturday.
The three farmers were killed inside the prohibited "red zone" near the slopes of the volcano
, Indonesia's disaster agency said.
"This area should have been empty, because nobody should be inside the red zone," disaster agency spokesman Sutopo Purwo Nugroho said.
The 2,600 meter (8,530 feet) high volcano sprung back to life in 2010 after lying dormant for nearly four centuries.


A series of both small and powerful explosions in 2013 and 2014 displaced several thousand villagers, who were told not to return and given money to live elsewhere.
One explosion in February 2014 killed 16 people.
Indonesia has 129 active volcanoes.