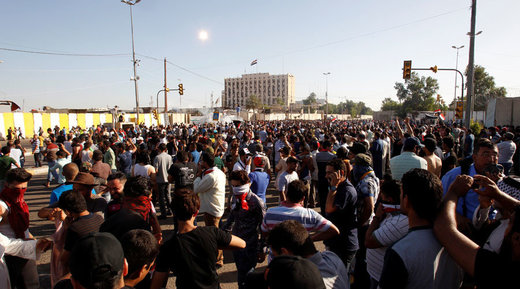 At least three people are reported dead and scores injured after Iraqi state forces used live bullets and tear gas against anti-government protesters attempting to storm the Green Zone area of Baghdad.
A curfew has now been imposed.
People in the mostly young male crowd shouted,
"This is the revenge of the people!"
and
"Don't side with the corrupt!"
as they gathered outside the heavily fortified area to censure the government for failing to pass a key anti-corruption law.
Friday's demonstration was called by secular protesters, who are calling for Prime Minister Haider al-Abadi to overcome bickering among the special interest groups and factions within his government.
Al-Abadi has also shouldered blame for a worsening security situation, as Islamic State has been allowed to carry out a string of deadly bombings in Shia districts in the capital and other cities.
Several hundred protesters managed to break through the manned checkpoints, and made their way towards parliament, before police deployed bullets, forcing the crowds to retreat. A curfew has now been imposed, with state media reporting that
"control has been restored, following an unfortunate series of events."
On Wednesday, a market in Sadr City, a stronghold of the influential Shia cleric Moqtada al-Sadr, was hit by a bomb. Relatives of the victims and Al-Sadr's supporters were among the rioters.