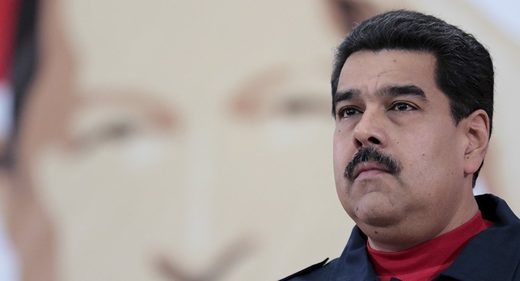 Venezuela is preparing for the biggest military exercises in its history this Saturday after the South American country's government said it's on high alert as the opposition pushes for a recall referendum on President Nicolas Maduro.
"Venezuela is threatened," Defense Minister
Vladimir Padrino Lopez
said on state television Thursday. "This is the first time we are carrying out an exercise of this nature in the country.
In terms of national reach, it's going to be in every strategic region."
Maduro announced the exercises last weekend, a day after pledging to prolong his government's special emergency powers.
In a rambling news conference
on Tuesday, Maduro said U.S. spy planes including a Boeing 707 E-3 Sentry had entered the country's airspace illegally this month. The nation is already on an elevated state of alert after the U.S. renewed a presidential decree that said the South American country is a threat to its national security, Padrino Lopez said.

Comment: The same tactics are recycled over and over again. Just like Gaddafi, Maduro is made to seem 'mentally unstable' when in fact it's the war-mongering West who are on the verge of absolute insanity.


Opposition Governor Henrique Capriles said a "moment of truth" had arrived for the country's Armed Forces Tuesday, a day before security
forces
used tear gas to turn back anti-government protesters in central Caracas.
Demonstrations, Dialogue
The opposition has pledged further demonstrations across the country to pressure the electoral board, or CNE, to process a petition to activate a recall referendum. They accuse the government of stalling the process to avoid early elections.
Maduro, speaking on state television, said the head of the Unasur regional bloc, Ernesto Samper, former Dominican Republic President Leonel Fernandez, former President of Panama Martin Torrijos, and former Spanish Prime Minister Jose Luis Zapatero will support a process of dialogue with the opposition. The former leaders will help the opposition "respect the constitution," Maduro said.
Maduro said he hoped the opposition would "give way" and cooperate in a process of peace. He didn't offer further details.
Rising political and economic tensions are gripping the country beset by the world's highest inflation, shortages of basic goods, and currency controls. Discontent over a sinking economy and rampant crime sparked months of anti-government demonstrations that left dozens dead and hundreds injured two years ago.
"The government is looking to victimize itself to both the international community and its own followers," Rocio San Miguel, director of Caracas-based, non-profit security researcher Citizens' Control, said in an interview. "They're looking for a distraction to buy time, and there's no better distraction than the military one."