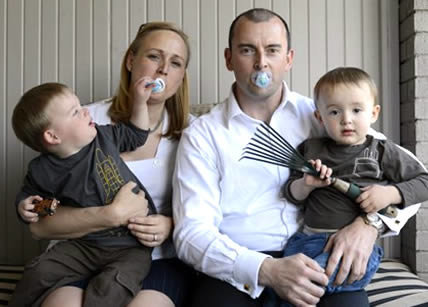 For decades, health officials have been telling parents to not share utensils with their babies or clean their pacifiers by putting them in their mouths, arguing that the practice spreads harmful germs between parent and child. But new research says
children whose parents clean their pacifiers by sucking them might be less likely to develop allergic conditions because of how their parents' saliva changes their microbiomes.
In a study on a small group of 184 Swedish babies published in the
Journal Pediatrics
found that
infants whose parents sucked on their pacifiers to clean them had almost a 60% reduction in eczema and 90% reduction in asthma, developing fewer allergies than children whose parents typically rinsed or boiled them at 18 months of age
. They also had lower rates of eczema, fewer signs of asthma and smaller amounts of a type of white blood cell that rises in response to allergies and other disorders.
Protection against eczema remained at age 36 months. Vaginal delivery yielded independent and additive protective effects against eczema development. The researchers stated "the salivary microbiota differed between children whose parents cleaned their pacifier by sucking it and children whose parents did not use this practice."
The findings add to growing evidence that some degree of exposure to germs at an early age benefits children, and that microbial deprivation might backfire, preventing the immune system from developing a tolerance to trivial threats
.
Comment:
Germs are good for you and have
healing powers
. Germs are a way of naturally instructing the immune system.
The
hygiene hypothesis
holds that, when babies' exposure to germs is so limited, their immune systems are deprived of the opportunity to learn how to fend off pathogens properly...consequently their immune systems become so sensitive that the babies develop allergies. That would also explain why people who grow up in large families or who have early contact with animals are less likely to develop allergies.
Young children who share their home with dogs or cats in the first year of life are
half as likely to become allergic
to those animals than kids who grew up with no pets. Young children who share their home with two dogs or cats in the first year of life are
half as likely to become allergic to those animals
than kids who grew up with only one dog or cat, or no pets.
The study, carried out in Sweden, could not prove that the pacifiers laden with parents' saliva were the direct cause of the reduced allergies. The practice may be a marker for parents who are generally more relaxed about shielding their children from dirt and germs, said Dr. William Schaffner, an infectious diseases expert at Vanderbilt University who was not involved in the research.
"It's a very interesting study that adds to this idea that a certain kind of interaction with the microbial environment is actually a good thing for infants and children," he said. "I wonder if the parents that cleaned the pacifiers orally were just more accepting of the old saying that you've got to eat a peck of dirt. Maybe they just had a less 'disinfected' environment in their homes."
"This is a really interesting and intriguing observation," says Elizabeth Matsui of the Johns Hopkins Children's Center, who was not involved in the research. "There's recently been an explosion of interest in the microbiome and how it might influence many things" but in particular someone's propensity to develop an allergic disease," Matsui says.
To investigate the role of pacifier cleaning, Bill Hesselmar of the University of Gothenburg in Sweden and his colleagues analyzed data they had collected for a broader study about babies' allergies. Among the questions the parents had answered was what they did when their child's pacifier fell out of his or her mouth.
"We asked them how they cleaned the pacifier if they rinsed them in water and of course most of them did," Hesselmar says. But a lot of the parents did something else.
"They put it in their mouth, sucked on it and then gave it back to the children," Hesselmar says. "It's a quite common way to clean pacifier."
Studies show that the microbial world in which a child is reared plays a role in allergy development, seemingly from birth. Babies delivered vaginally
accumulate markedly different bacteria
on their skin and
in their guts
than babies delivered by Caesarean section, and that in turn has been
linked in studies
to a lower risk of hay fever, asthma and food allergies. But whether a mother who puts a child's pacifier in her mouth or feeds the child with her own spoon might be providing similar protection is something that had not been closely studied, said Dr. Bill Hesselmar, the lead author of the study.
Scare tactics have previously been employed by medical practitioners on the basis that studies have showed a bacterium, streptococcus mutans, being highly contagious from mother to child and causing dental cavities. But Dr. Joel Berg, president of the American Academy of Pediatric Dentistry, said those efforts are misguided, since parents are bound to spread germs simply by kissing their children and being around them. "This notion of not feeding your baby with your spoon or your fork is absurd because if the mom is in close proximity to the baby you can't prevent that transmission," he said. "There's no evidence that you can avoid it. It's impossible unless you wear a mask or you don't touch the child, which isn't realistic."
Dr. Berg, who does salivary research at the University of Washington, said the new findings underscore something he has been telling his patients for years, that "saliva is your friend." It contains enzymes, proteins, electrolytes and other beneficial substances, some of which can perhaps be passed from parent to child.
Dave Mihalovic is a Naturopathic Doctor who specializes in vaccine research, cancer prevention and a natural approach to treatment.