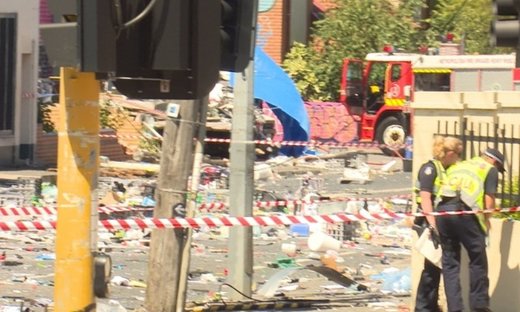 Police say an oxyacetylene cylinder may have exploded, causing nearby buildings' windows to blow out and scattering debris in Footscray
One man has died after an explosion in the truck he was driving triggered a collision involving five cars in Melbourne's west.
Police said they were assessing LPG cylinders in the back of the truck but were unclear about what had caused the explosion around 11.55am that left "a chaotic, unusual scene"
at the intersection of Barkly and Gordon Streets in Footscray.
The driver of the truck, a man in his early 20s, was found dead at the scene. A woman in her late 30s was in a stable condition in hospital with non-life threatening injuries, Victoria police acting inspector Nigel L'Estrange said.
Another four people involved in the crash were assessed by paramedics but not hurt.
L'Estrange said the "significant blast" had occurred before the truck slammed into other cars on the busy street.
Nearby buildings had sustained damage from the shockwave, include one probably containing asbestos, he said.
Two power lines were brought down in the smash, which blew out the windows of the surrounding quarter block and scattered debris around the site. The truck had been carrying rubbish, police said.
An exclusion zone was put in place and 19 people from houses on Barkly Street between Creswick and Gordon streets were evacuated. Power was cut to the area as a precaution.
Artur Wydro, from the nearby Alan Mance car dealership on Barkly Street, said the windows of the building shook when the explosion occurred.
"We all jumped, we thought it was a bomb or something," he said.
"We ran into the street and all we could see was white smoke, so we knew it was an explosion — if something was on fire the smoke would have been black or grey.
"There was a white fog settling over the street, it was very scary. It looked like someone had thrown clothes all over the street."