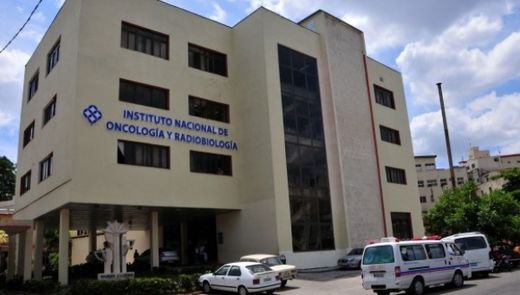 A Cuban girl is being deprived of urgently needed cancer treatment due to the United States' blockade, doctors said Wednesday.
Seven-year-old Noemi Bernardez underwent surgery to remove a brain tumor in September, and is now undergoing further treatment including radiation therapy. However, her doctors say the likelihood Bernardez will survive is low without access to a specialized drug made in the United States, Temozolomida.
"It's essential for Noemi and other patients with the same condition to receive treatment that improves their chance of survival, such as Temozolomida," Doctor Migdalia Perez told teleSUR.
Without the drug, Bernardez has a 20 percent chance of surviving. Comparably, patients with Bernandez's conditions generally have a 70 percent chance of beating cancer when their treatment includes Temozolomida.
However, the crucial drug is close to impossible to obtain in Cuba, where suppliers are unable to directly purchase Temozolomida from its U.S. manufacturer.
Due to the U.S. blockade, the Cuban health ministry has been forced to hunt for the drug from third party suppliers - a difficult feat given U.S. laws that penalize foreign subsidiaries of U.S.-based companies from trading with Cuba.
According to Perez, the blockade has put Bernardez and her doctors in a difficult situation.
"It's very difficult to treat a disease when our hands are practically tied," she said.
The U.S. blockade of Cuba is opposed by almost the entire world. Earlier this week, the United Nations voted almost unanimously for a resolution to condemn the blockade, with just the United States and Israel defending the blockade.
For the last three years, 188 of the 193 members have voted in favor of Cuba, with the United States and Israel being persistent exceptions. The decision must be unanimous in order for the measure to be passed.
The resolution is named the "Necessity of ending the economic, commercial and financial embargo imposed by the United States of America against Cuba." It expresses concern over the international legality of the U.S. economic and financial siege of the Caribbean island.
U.S. President Barack Obama said in July that the blockade had failed. Since then, he has often hinted that it would soon be lifted. But despite beginning a path to normalize bilateral dealings, including lifting some travel and trade bans to the island, the sanctions continue, as a change of policy would have to be passed by Congress.
Cuban President Raul Castro has reiterated that in order for full relations to be re-established, the United States must meet four conditions: to leave Guantanamo detention camp; end the blockade; end the "wet-foot-dry-foot" law encouraging Cubans to pursue residency in the U.S.; and end anti-government radio and television transmissions into the island.
Lifting of the half-century blockade would represent a historic moment for Cubans, 77 percent of whom were born under the harsh economic conditions.