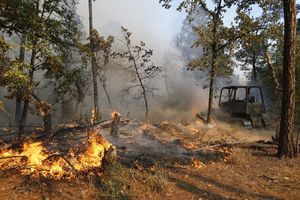 Texas Governor Greg Abbott declared a state of disaster on Thursday in a central Texas county hit by a wildfire that has destroyed 34 structures, sent scores of people fleeing for safety and scorched nearly 7 square miles.
Abbott said he has authorized the deployment of military helicopters for the fire that has hit Bastrop County, east of Austin. He also sought a fire assistance grant from the Federal Emergency Management Agency, which was immediately approved.
"So far, we have been very fortunate in this fire in that no person has lost their life. We want to conclude this fire by being able to say the same thing," Abbott told a news conference.
The so-called
Hidden Pines Fire in Bastrop County is estimated to cover 4,383 acres and is only 25 percent contained,
according to the Texas A&M Forest Service. It said 154 homes are threatened by the blaze.
County officials said low winds in the area predicted for Thursday will help keep the fire from spreading widely.
Additional firefighters are on their way to battle the blaze, which is in the
same pine forest area where a 2011 wildfire burned through some 34,000 acres, or 53 square miles.