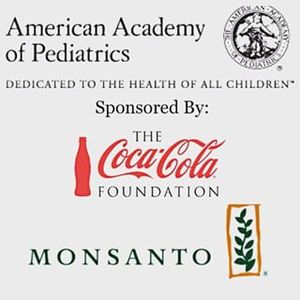 When the American Academy of Pediatrics needed support for a website it created to promote children's health, it turned to a surprising partner: Coca-Cola.
The world's largest maker of sugary beverages,
Coca-Cola has given nearly $3 million to the academy over the past six years
, making it the only "gold" sponsor of the
HealthyChildren.org
website. Even though the pediatric academy
has said publicly
that sugary drinks contribute to the obesity epidemic, the group praises Coke on its website, calling it a "distinguished" company for its commitment to "better the health of children worldwide."
The extent of the financial ties between Coke and the Academy of Pediatrics was revealed last week when the company
released a detailed list of nearly $120 million
in grants, large and small, given to medical, health and community organizations since 2010.
Not only has Coke's philanthropy earned it praise from influential medical groups, the soda grants appear to have, in some cases, won the company allies in anti-soda initiatives, wielded influence over health recommendations about soft drinks, and shifted scientific focus away from soda as a factor in the causes of obesity.
The list of Coke donations was released after the company's chief executive, Muhtar Kent, promised to be transparent about its partnerships in the health community. The move was prompted by criticism that the company has paid for scientific research that plays down the role of Coke products in the spread of obesity, an issue
first reported last month in The New York Times.
In addition to the Academy of Pediatrics, Coke beneficiaries include a number of respected medical and health groups, including $3.1 million to the American College of Cardiology, more than $3.5 million to the American Academy of Family Physicians, $2 million to the American Cancer Society and roughly $1.7 million to the country's largest organization of dietitians, the Academy of Nutrition and Dietetics.
Dr. Karen Remley, the chief executive of the Academy of Pediatrics, said Coke's support did not influence the information her group put on its website. Although Coke's logo remained on the group's website as of Monday, she said the group was ending its relationship with Coke at the end of the year. "Collectively, the members, the board and the staff went through the process and said that we no longer share the same values with Coca-Cola," she said.
Dr. Remley did not say when the group ended its relationship with Coke, but pediatricians interviewed for this article said the Coke partnership was the focus of discussion at chapters around the country because doctors were upset by it. At the academy's Annual Leadership Forum in March — where academy members can vote on resolutions to submit to the academy leadership — one of the top two resolutions called for the academy to sever its relationship with Coke.
"The purpose of the academy, of which I am a proud member, is to protect the health and lives of children," said Dr. Arnold H. Matlin, a retired pediatrician from New York who drafted the Coke resolution. "Coca-Cola is bad for children, and the A.A.P. should never accept sponsorship from Coke or any other company that makes sugar-sweetened beverages. It's obscene."
The pediatrician Alan Greene, who runs the popular website
DrGreene.com
, said Coke's influence was seen beyond the website. He was shocked at the
group's national conference
in 2011 in Boston when he saw thousands of pediatricians carrying cups and giant bags emblazoned with the Coca-Cola logo. He also noted that Coke sponsored a lavish welcome reception.
"Excess consumption of sugary drinks is one of the biggest threats to the health of our children, so when I first saw this, it seemed quite jarring to me," Dr. Greene said.
In an interview, Sandy Douglas, the president of Coca-Cola North America, said the company was committed to helping people understand how to live "a healthy, active lifestyle," and that the company wanted to support organizations that share this message.
"The key here is that each one of these organizations is very well respected and completely independent," he said.
Mr. Douglas emphasized that in addition to supporting health and wellness programs, the company offers low and zero-calorie options like bottled water, Diet Coke and "mini cans" of Coca-Cola. And he said he did not think that sugary drinks should be eliminated from children's diets.
"Pediatricians are absolutely right to be stressing healthy eating and drinking to parents and kids," he said. "But I suspect that completely eliminating them is not necessary for kids to be healthy any more than eliminating ice cream, birthday cakes or cookies. The key is moderation."
While Coke said that only $29 million, or less than 25 percent of the grant money, was used for academic research, the money has already begun to shape the international debate around obesity. Just last month, Louisiana State University's Pennington Biomedical Research Center
announced the findings of a large Coke-funded study
of 6,000 children from 12 countries that determined that the major lifestyle factors for childhood obesity around the world were a lack of exercise, not enough sleep and too much television. Coke has given more than $7.5 million to the university research center or its foundation over the past five years, making L.S.U. the single largest recipient of Coke money since 2010.
The university's press release was notable in that it did not mention the role of soft drinks in the obesity epidemic. By comparison,
in 2010, the surgeon general
listed "reducing consumption of sodas and juices with added sugars" as the first item on a list of "healthy choices" needed to improve the health of the nation.
In a statement, the Pennington research center said it complied "with all appropriate ethical safeguards," disclosed conflicts of interests in published papers and press releases, and often used external advisory boards and other methods "to assure the quality of our science."
The Academy of Nutrition and Dietetics, which has received $1.7 million in Coke funding since 2010
, has dedicated an entire page to Coke on its website, calling it a "Premier Sponsor." The group has even allowed Coke's "Beverage Institute for Health and Wellness" to provide continuing education credits for academy members.
On Monday, an academy spokesman, Ryan O'Malley, suggested its financial relationship with Coca-Cola had ended. In an email, Mr. O'Malley said the academy's sponsorship agreement with Coca-Cola would "expire" at the end of 2015.
Andy Bellatti, a registered dietitian in Las Vegas, said that allowing Coke and others in the food industry to sponsor education sessions for dietitians undermined the group's credibility. In 2013, Mr. Bellatti and other dietitians formed an organization called
Dietitians for Professional Integrity
to pressure the academy to end its corporate sponsorships.
The American Academy of Family Physicians, which received more than $3.5 million in funding, also makes allowances for soft drinks in its
recommendations
. It notes that sugar-sweetened drinks add sugar and calories to a person's diet, but "staying hydrated is important for good health." Among its suggested substitutes are flavored water, unsweetened tea and diet soda — all products sold by Coke.
Marion Nestle, a professor of nutrition, food studies and public health at New York University, said she was pleased that Coca-Cola had lived up to its promise to provide greater transparency,
but she did not know of another food company so "deeply and widely entrenched in so many public organizations."
"What I find most remarkable about this list is its length and comprehensiveness," said Dr. Nestle, author of the book
Soda Politics
. "No organization, no matter how small, goes unfunded. Any scientist or dietitian who is willing to take Coca-Cola funding gets it."
For example, the
list showed that Coca-Cola provided many large grants
to community organizations, including more than $6 million to the Boys & Girls Clubs of America. It also donated hundreds of thousands of dollars to minority groups like the N.A.A.C.P., which received $500,000 since 2010, and the Hispanic Federation, which received $325,000. Both of those groups
filed amicus briefs supporting a lawsuit
filed by the beverage industry in 2013 to block a proposal by New York's mayor, Michael R. Bloomberg, for a citywide ban on large sugary beverages.
Their allegiance to the beverage industry was particularly shocking because minorities have disproportionately high rates of obesity and could benefit the most from soda restrictions, health advocates say.
"These big minority organizations supported the industry even though the burden of the soda industry is borne by the minority community," Dr. Nestle said.
The proposed soda restrictions ultimately failed.
Yoni Freedhoff, an obesity expert at the University of Ottawa, said
he was surprised by the sheer number of community and medical organizations that had accepted large sums of money from Coca-Cola
.
"These organizations are forming partnerships with a company whose products are absolutely thought to be a major player in obesity and the spread of chronic, noncommunicable diseases," he said.