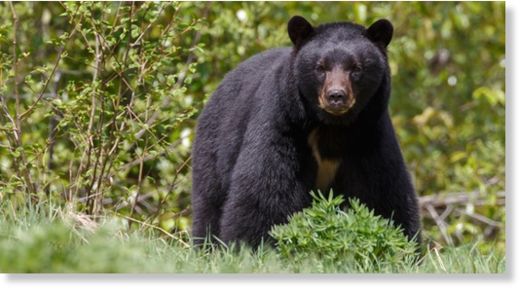 An elderly woman has been hospitalized with serious injuries she suffered in a
rare attack by a black bear outside her rural home
near the city of Kalispell in northwestern Montana, wildlife managers said on Monday.
Few details were immediately available about the incident, which happened on Sunday afternoon near a lake west of Kalispell
where dozens of black bears are known to roam but have rarely, if ever, attacked a human
, Montana wildlife officials said.
"Black bears just don't attack, as a rule,"
said Montana Fish, Wildlife and Parks warden Charles Bartos.
Wildlife managers are investigating and have set traps in hopes of capturing and killing the bear responsible, said agency spokesman John Fraley.
He said he was not aware of another such case in his 24 years with the department.
Traps have been set in hopes of capturing and killing the bear responsible, he said.
Also on Sunday, a hunter in Idaho suffered minor injuries from an attack by a black bear in the southeastern part of the state, the first such incident in 13 years, Idaho Fish and Game reported.
Bears in the Northern Rockies are on a hunt for food to pack on weight before hibernating for the winter, Bartos said. A warmer than average spring that brought less rain than usual reduced the supply of berries, the staple for black bears, he added.
Most encounters with black or grizzly bears that cause harm to humans involve an element of surprise or are tied to female bears protecting their young, and the attacks are mostly defensive in nature, said Bartos.
The vast majority of cases in which humans have been wounded or even killed by bears in the Northern Rocky mountain states of Idaho, Montana and Wyoming have involved grizzlies.
Yet hunters legally targeting black bears in the region have sometimes reported injuries tied to unexpected encounters with the medium-sized omnivores, wildlife managers said.
Black bears, found across the United States and North America, stand about three feet (90 cm) tall at the shoulder and are typically six feet (1.80 meters) long from nose to tail, according to the National Wildlife Federation.
Male bears can weigh as much as 600 pounds (272 kg) while females usually weigh less than 200 pounds (90 kg).