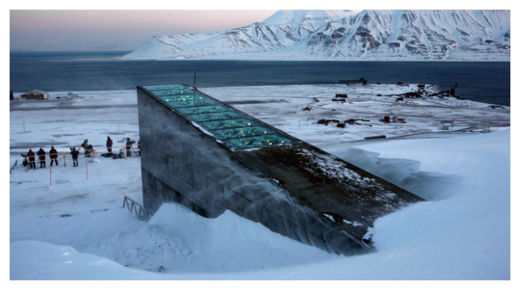 A seed storage vault built into the side of an Arctic mountain to protect global food supplies in case of global cataclysm is being tapped by researchers in the Middle East who say the Syrian war has devastated their crops.
The Svalbard Global Seed Vault, built in 2008 by the Norwegian government as the world's largest secure seed storage, is intended to protect thousands of varieties of essential food crops against things like nuclear disaster, disease and climate change.
Now, the devastation brought on by the
war in Syria
, which has raged on for four years and claimed the lives of hundreds of thousands of people, has prompted researchers to request some of the samples they gave to the vault, as their collection of crops in Aleppo was destroyed in the fighting.
Among the samples requested by the International Center for Agricultural Research in Dry Areas (ICARDA) crops resistant to drought that could help scientists develop and secure food supplies in the face of climate change in dry areas worldwide.
Protecting the world's biodiversity in this manner is precisely the purpose of the Svalbard Global Seed Vault," said Brian Lainoff, spokesman for the Crop Trust, which runs the underground store, located on a Norwegian island 1,300 km (800 miles) from the North Pole.
It's nested 130 meters into the rock and 130 meters above sea level, and is robustly secured to keep samples frozen, even in the event of a power outage, for 200 years.
In total, the vault now holds 860,000 samples, from almost all nations, according to Reuters.
ICARDA left its headquarters in Aleppo in 2012 and moved to Beirut because of fighting in Syria.
The researchers have requested nearly 130 of 325 sample boxes ICARDA deposited in the vault, containing 116,000 samples. The Svalbard team told Reuters the samples would be sent as soon as all necessary paperwork was completed.
Syria has been mired in civil war since 2011, with troops loyal to
President Bashar Assad
fighting against several opposition factions and militant groups, including the self-proclaimed Islamic State terror group and the Nusra Front. An estimated 250,000 people have been killed in the war, some 7.6 million people have been internally displaced in Syria and another four million are living as refugees outside the country.