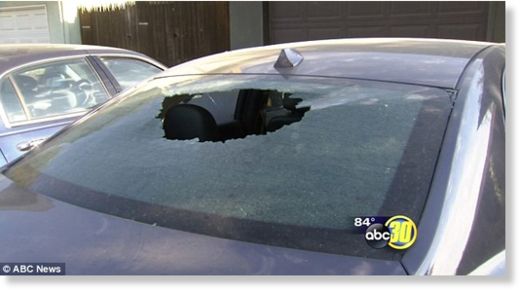 Residents of a California city narrow avoided injury when metal pieces from a plane fell from the sky as the aircraft experienced engine trouble.
A passenger jet was flying over Fresno when one of its engines failed shortly after take-off and it was forced to return and make an emergency landing.
One resident told local media she heard a loud 'boom' that shook her house moments before debris landed on her car.
Jeanette Sanders, who was inside her home at the time of Sunday's incident, told
ABC30
: 'I came out to check everything out and then I turned around and looked at my car and I had a hole in the back end, the windshield was busted out.'
Pieces of the jet engine crashed through the car's rear window as it was parked in front of her home.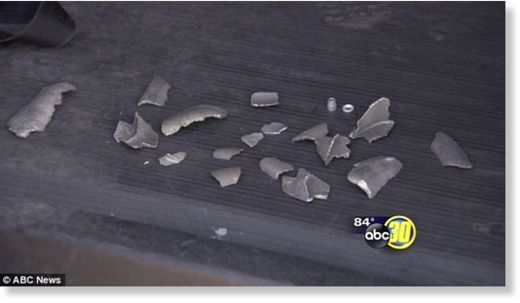 Witnesses told the TV station that the jet engine parts were hot to the touch when they fell from the sky and landed in the neighbourhood.
Police officers received several 911 calls as the drama unfolded, and they responded to recover the debris and ensure no one was injured.
Sgt Steven Jaquez told ABC30: 'Regardless of where the metal came from, we're definitely very fortunate that no one was injured today.'
On its website, the FAA said it investigates all reports of debris falling from planes, but pointed out that it is 'very rare for anything to fall from an aircraft'.