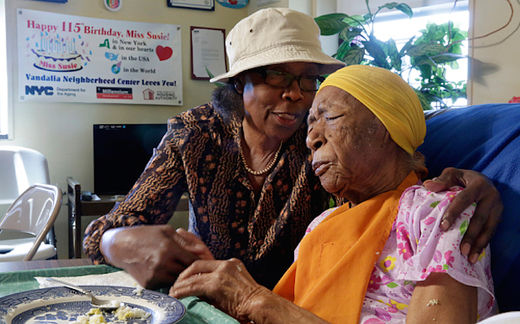 She is one of only two living people in the world who was born in the 1800s - and puts her longevity down to eating bacon and eggs every morning for over a century.
Susannah Mushatt Jones, the world's oldest person, celebrated her 116th birthday on Monday.
At the time of her birth on July 6, 1899, William McKinley was President of the United States, the Spanish-American War had recently ended, and WG Grace had just played his final Test for England.
Miss Jones was one of 11 children born to a father who picked cotton in Alabama. After leaving school she joined him in the fields before heading to New York where she worked as a nanny in the Roaring Twenties.
She lived through two world wars, technological revolutions, the civil rights movement, and the election of America's first black president.
The last three decades have been spent at a public housing complex for the elderly in Brooklyn, New York, where she took part in tenant security patrols until she was 106.
Miss Jones went blind 15 years ago but is not bed-bound and visits a doctor only three times a year.
The only medication she takes is for high blood pressure.
Every morning she starts her day with a breakfast of several strips of bacon, scrambled eggs, and ground corn.
A sign on her kitchen wall reads "Bacon makes everything better".
Asked what else had contributed to her long life Miss Jones said she did not smoke or drink, and got "lots of sleep".
Miss Jones, who has no children, spent her birthday with some of her 100 nephews and nieces.
Lois Judge, a niece, attributed her aunt's longevity to growing up in rural Alabama where she picked own fresh fruit and vegetables.
According to the Los Angeles-based Gerontology Research Group, which keep a list of "supercentenarians" aged over 110, the only other living person born in the 1800s is Emma Morano, of Verbania, Italy, who is a few months younger.
She is Europe's oldest living person and has attributed her longevity to eating several raw eggs a day.
The oldest person ever to have lived was the French woman Jeanne Calment who died aged 122 years and 164 days, according to Guinness World Records.