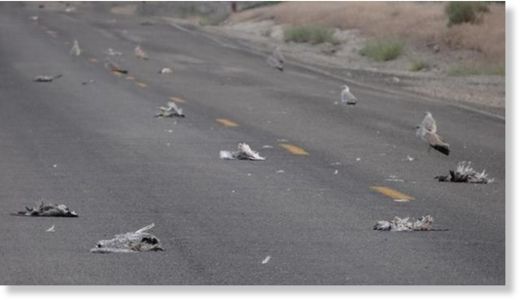 Evin Oneale, regional conservation educator for the Idaho Department of Fish and Game, said residents have reported the dead songbirds for a couple of weeks now.
It's unclear how many total birds have died.

The birds found dead show no signs of physical injury and were not sickened by plague
, Oneale said. Rather, he said, it appears to be a specific type of pathogen that has yet to be determined.
Kuna resident Susan Carlson was driving on South Cole Road on June 27 when she came upon
dozens of birds in the road near the intersection of Barker Road.

"I was just very disturbed by what I saw,"
Carlson said.
The dead birds were various species of songbirds, she said. Some birds were alive, but were struggling to fly.

"One even fell onto my car,"
Carlson said. "The whole scene made me very, very sad."
No similar dead-bird sightings have been reported in other parts of the Treasure Valley, Oneale said.
Oneale advises residents who come across numerous dead birds to report them to Fish and Game immediately. Include a description of the bird, the exact location and take pictures with a camera phone if possible.
"The fresher, the better," Oneale said.