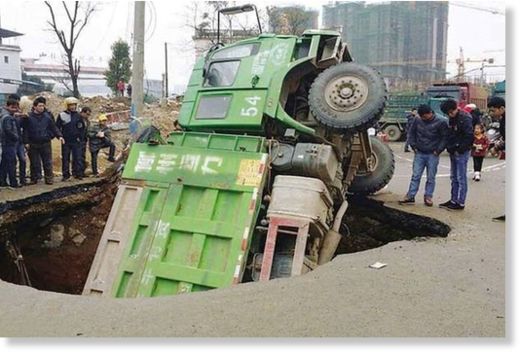 Driver Li Hung had to quickly open his door and scramble to safety as the lorry was dragged back into the cavernous expanse
This is the incredible moment a yawning hole opened up and swallowed a truck.
Chinese driver Li Hung lived up to his name when he found himself hanging over the edge of a huge sinkhole that had opened up behind his lorry.
Li, 35, had been driving back to work in Nanning City, China, when he started to feel his vehicle slipping backwards.
He said: "It almost felt as if I hadn't put the brake on and I had started to roll downhill, but I had my foot on the brake and I realise that I was tipping back not because I was moving, but because of the sinking."
He told local TV he opened the door and jumped out just as the lorry disappeared into the huge hole.