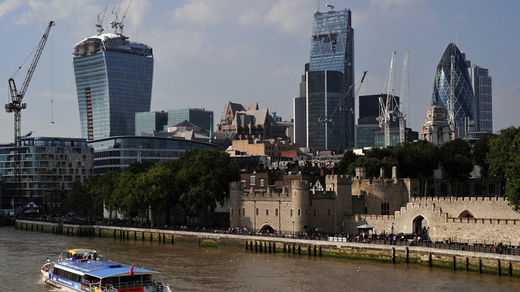 Two heavy steel bolts broke off one of London's tallest skyscrapers, prompting urgent ultrasound tests on more than 3,000 'mega-bolts' on the City's 'cheese-grater' tower.
The 47-story landmark building was cordoned off from pedestrians after the incident. The bolts are reportedly around the size of a human arm.
Contractor Laing O'Rourke, who constructed the tower, and structural engineers Arup have begun a full investigation testing for weaknesses in the 5-inch-diameter (12.7cm) bolts that hold the building together.
Comment:
Is this the same Laing O'Rourke who, amongst others, was sued for
blacklisting construction workers
? It looks like his scheming is coming back to haunt him.
The #Cheesegrater in London making headlines again. Instead of roasting cars it has bits dropping off. Integrity not compromised though!

- Brian Seaman (@BrianMSeaman) November 6, 2014
British Land has put fencing around the ground floor
"as a precaution only"
while the tests are carried out.
"The building is still open, it is not an unsafe structure,"
Nigel Webb, head of development at British Land, said.
"Public safety is our priority so we have taken a number of precautionary measures."
Steel bolt breaks off from Richard Rogers' Cheesegrater tower pic.twitter.com/FDU0AqMUx6

- Emil (@fufcall3q) November 6, 2014
British Land revealed on Wednesday that part of one bolt and a nut fell to the ground from the fifth floor and a second bolt broke and fell on the access gantry on the 19th floor.
Construction was completed on the building earlier in 2014.
Luckily, no one was injured, as the bolt landed in an area currently cordoned off for construction. The area, however, will become a public space with gardens and benches when building work is completed.

Comment: Probably not a good idea to go picnicking in the shadow of this building. Just sayin'.


The tower is built with a wedge-shaped angle in order to preserve the views of St Paul's Cathedral, earning it the nickname of
'cheese-grater'.