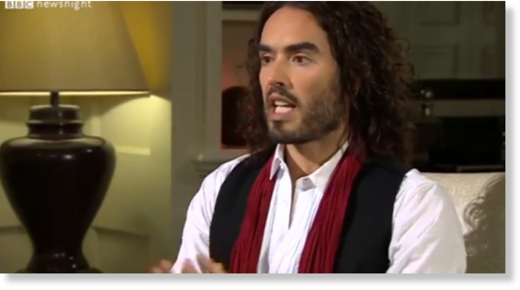 In an interview on BBC2, comedian/activist Russell Brand stated that he is "open-minded" to the idea that the U.S. government was behind the 9/11 terrorist attacks.
During the interview with Newsnight's Evan Davis, Brand called the relationship between the families of former US president George Bush and the al-Qaeda leader Osama bin Laden "interesting," reports
The Independent
.
Brand who is currently promoting his latest book,
Revolution
, was asked by Davis about references Brand made in the book to the 9/11 attacks that resulted in over 3,000 deaths.
Brand refused to rule out the possibility that the American government was behind the attacks, while accusing the BBC of pushing an "anti-Islamic narrative" during its coverage of the attack on the Canadian parliament by a gunman.
"I think it is interesting at this time when we have so little trust in our political figures, where ordinary people have so little trust in their media, we have to remain open-minded to any kind of possibility," Brand said.
"Do you trust the American government? Do you trust the British government?' he continued. "What I do think is very interesting is the relationship that the Bush family have had for a long time with the bin Laden family."
"What I do think is very interesting is the way that even the BBC report the events in Ottawa to subtly build an anti-Islamic narrative. I think that's very interesting. I think it's interesting that these tragic events are used to impose further controls on us."
When pressed to elaborate on his views with regard to 9/11, Brand shut down the line of questioning, saying he didn't want to discuss "daft" conspiracy theories.
"Mate, I don't want to follow you down blind alleys about silly administrative quibbles." Brand said.
An exasperated Davis told Brand, "I'm trying to take you seriously."
Watch the full video below from
BBC Tonight
: