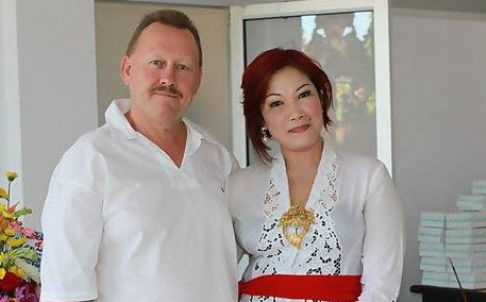 The body of a British man was found tied up in a ditch with his throat slashed on the Indonesian resort island of Bali, in what police said was a killing ordered by his own wife.
Local residents found the man, identified by police as 60-year-old Robert Kelvin Ellis, on Tuesday after noticing a suspicious looking object next to a paddy field, which was far from any houses.
The body was starting to decompose when it was discovered in a village between the tourist areas of Ubud and Kuta, a detective said, leading police to believe the victim died more than 24 hours previously.
Ellis, who was also an Australian passport holder, had been living at a villa in the tourist area of Sanur for some years.
"The body was covered with plastic and bed quilts," said detective Wisnu Wardana. "His body and hands were tied and there was a wound on the victim's neck. The neck was almost completely cut."
Ellis's Indonesian wife, Julaikah Noor Ellis, admitted to ordering the killing, police said on Wednesday. One suspected motive is money, according to the authorities.
She went to the police to report him missing shortly after the body was found. Police named her a suspect after finding out the couple had been having relationship problems.
"Our suspicion towards the wife of the victim was first aroused when some of the victim's friends said there have been problems between the couple for a while," detective Wardana said. "After talking to her slowly and kindly for a while, she finally admitted it."
She was in the house at the time of the killing but told police that she was in her room when it took place, he said.
The boyfriend of a housemaid had carried out the killing, police said. The maid admitted it took place in Ellis's kitchen between Sunday evening and Monday morning, they said.
The wife, two maids and the boyfriend were in police custody, while four friends of the alleged murderer suspected of involvement were being pursued by police.
Ida Bagus Putu Alit, head of forensics at Bali's main hospital, said the body was tied up and suffered serious injuries. "There are three gashes on the neck" that were caused by a sharp weapon, the official said.
A spokesman at the British embassy in Jakarta said: "We were notified of the death of a British national in Bali. We stand ready to provide consular assistance."
Bali, a pocket of Hinduism in Muslim-majority Indonesia, attracts millions of foreign visitors every year with its palm-fringed beaches and tropical climate.
While foreigners often fall foul of Indonesia's tough anti-drugs laws, which include the death penalty, grisly murders are rare.
Source: Agence France-Presse