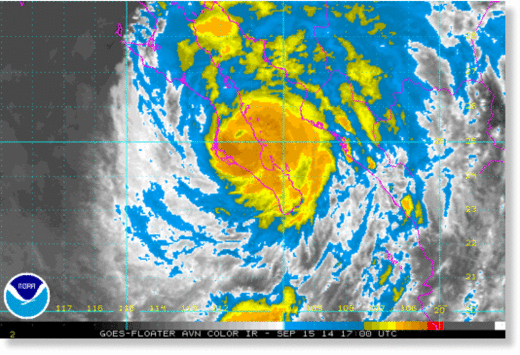 Hurricane Odile whipped through the popular beach resorts of Mexico's Baja California peninsula on Monday, uprooting trees, downing power lines and forcing thousands of tourists to take cover in emergency shelters.
Winds of up to 100 miles per hour (160 km/h) buffeted shelters as one of the worst storms on record hit the luxury retreats of Los Cabos, battering Mexico's northwest coast with heavy rains that left plush hotels badly waterlogged.
Odile has weakened from a category four to category two hurricane since Sunday, but the National Hurricane Center said it would likely cause life-threatening flooding and mudslides on Mexico's northwestern coast during the next day or two.
"The whole place is devastated, San José del Cabo, windows are trashed, trees and electricity poles are down," said Mauricio Balderrama, manager of the Cabo Surf Hotel and Spa. All of the hotel's guests were fine, he added.
The weather service said Odile was expected to slow as it pushed northwest along the desert peninsula and forecast the storm would weaken steadily over the next two days.
The winds have eased somewhat since the storm moved over land, but because it struck in the middle of the night, details were scarce on the extent of any damage on Monday morning.
Tourists in shelters or hiding in the bathtubs of their rooms posted photos on social media showing windows, barricaded with furniture, after they were blown out by the strong winds.
Some reported flooding at hotels when dawn broke. Streets and beaches in the resort were strewn with debris left by Odile, which was about 65 miles (105 km) east of Cabo San Lazaro by 1500 GMT and moving northwest at about 14 mph, the NHC said.
Evacuations
At least 26,000 foreign tourists and 4,000 Mexicans were estimated to be in the region, Mexican officials said. Emergency workers and military personnel evacuated thousands of people from areas at risk of flooding.
Some experts said it was the strongest hurricane to hit the tip of the peninsula since the advent of satellite data.
"We haven't seen one get so close and with the possibility of impact, and of such a nature," said Wenceslao Petit, head of emergency services in Los Cabos. "There aren't words for this."
Ahead of the storm's approach, people in Cabo San Lucas had rushed to board up windows, clear beach furniture and remove fishing boats and yachts from the water and into dry docks.
While other beaches in Mexico were packed with tourists during the weekend ahead of Tuesday's Independence Day holiday, the resorts of Los Cabos are in low season and mostly visited by Americans.
Luis Puente, the head of Mexico's civil protection agency, said that 164 shelters had been readied with a capacity for 30,000 people. There are no major oil installations in the area.