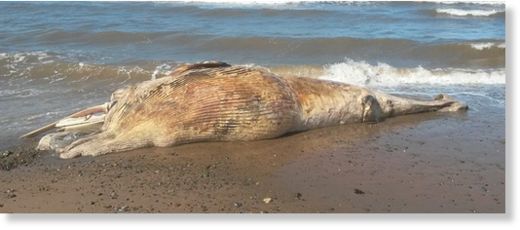 A dead whale washed up on the west Cumbrian coast more than a week ago is still beached and a decision has not yet been made about when it will be moved.
A dog walker made the grim discovery of the minke whale at Braystones 11 days ago, but Copeland Council, which has the responsibility of moving the 25ft mammal, can not say when, or if, it will be removed.
Confirmation of the delay comes as a second minke whale - in the same decomposed state - was found washed up further down the coast at Barrow on Wednesday.
Experts say there could be a number of reasons why two whales have been brought ashore in such a short space of time, with one suggestion being the recent spate of warm weather attracts the mammals nearer land.
Ernie Davidson, Copeland's acting waste and enforcement manager, said it was a lengthy process to make arrangements for the removal, and a final decision could even be made to leave it where it is.
Because of the whale's location - which is not accessible by road - specialist vehicles would need to travel over the nearby railway line. Risk assessments are being carried out for the possible removal and a number of licences applied for.
"We are working with a number of different organisations to remove the whale," added Mr Davidson. "We have got to do everything right and cover everything as best we can."
He added that the whale could be removed as early as the middle of next week. But there is also the chance that the mammal could be left on the beach to "break away naturally" if the cost and risks are too high, which is what happened to a whale found at Drigg a few months ago.