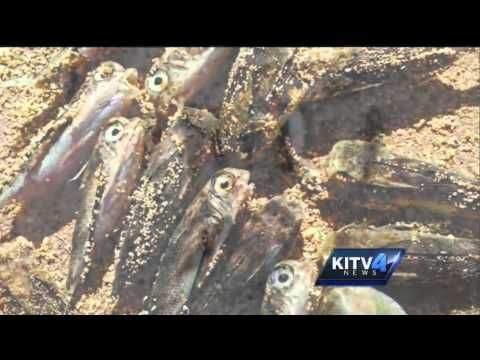 It's a sight not often seen on the shores of Oahu - fish, by the thousands, washing up on the south and west shores.
Viewers alerted KHON2 of the small dead fish via
Report It
and
beachgoers we talked to say they've never seen such a phenomenon.
From a distance, the shoreline in Nanakuli looks normal with some type of debris or rocks on the sand. But take a closer look and you'll see that's not what it is.
"Stinky and scary because fish are supposed to be in the water, not on the sand," said beachgoer Diamond Briscoe.
"Earlier we were swimming around and we saw little fish parts, like heads and stuff," said beachgoer Jesus Ramos.
The same type of fish and the same size were found dead on numerous beaches. Each fish is about two inches long, but there are hundreds, if not thousands of them on the shores between Nanakuli and Maili.
KHON2
also received reports of this happening at Ko Olina and Waikiki.
"These are flying gurnards," said Kathleen Cole, an associate professor of biology at University of Hawaii at Manoa.
Cole says the fish are not fully grown, but rather baby fish that are dying.
"I've seen them in water three or four feet deep, but they are more typically found, especially in these numbers,
they're typically found in slightly deeper waters,
" Cole said.
But what are they doing washing up here and why now?
According to State Aquatic Biologist Alton Miyasaka, nothing is wrong. Nothing toxic or unusual happened.
"They would be normally spawning this time of the year in the summer, so it's just about catching the tide at the right moment when they'll come to shore rather than be washed out at sea," he said.
The state began receiving reports of this more than a week ago and sent samples to a lab to try to confirm this is nothing more than Mother Nature at work.
"Is it normal to still have it appear on the shores a week later?" KHON2 asked.
"Yes, I think it is. I think part of the spawning cycle, they'll be spawning around this time. They don't all spawn on the same day," Miyasaka said.
If you continue to see dead fish washing up on our beaches, do not pick them up.
Report them to the state online here.