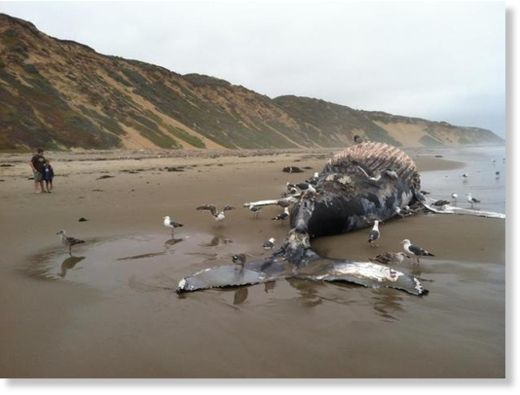 State Parks officials say people should avoid going near the decomposing carcass for health and safety reasons
A dead 35-foot-long humpback whale has washed up on a beach at Montaña de Oro State Park.
The whale washed up on a beach just north of Hazard Reef late Friday morning. Based on its size, the animal was probably a juvenile, said Vince Cicero, senior environmental scientist with State Parks.
Scientists with the National Marine Fisheries Service and the Marine Mammal Center examined the whale over the weekend and determined that it was too decomposed to do a necropsy.
"It had probably been dead a while before it washed ashore," Cicero said.
No cause of death has been determined, but injuries at the base of the whale's tail indicate it might have become tangled in netting or some other marine debris. The carcass is very smelly, and State Parks officials recommend that park visitors keep their distance from it for health and safety reasons.
Park managers have no plans to remove the whale from the beach. Tides and storms will eventually wash the animal back to the sea where it will make a valuable contribution to the marine food chain.
"We are just going to let it stay in place right now," Cicero said.