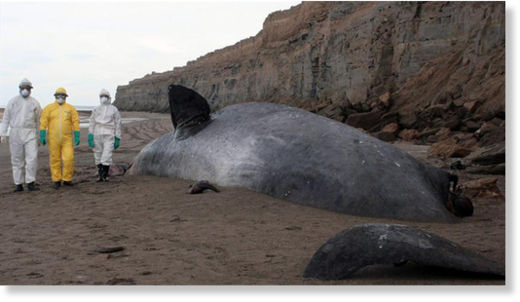 A 16-meter (52-foot) sperm whale weighing between 30 and 40 tons was found dead on a beach in El Condor, a city in the Patagonian province of Rio Negro, Argentine environmental officials told Efe.
The huge marine mammal was spotted last Friday by a fisherman, who notified marine biologists working in the area, Rio Negro Environment and Sustainable Development Secretariat spokesman Lucas Albornoz said.
The whale beached itself on a stretch of coast surrounded by cliffs some five kilometers (3.1 miles) from a nearby lighthouse, Albornoz said.
Fundacion Cethus biologists have been working to find the cause of the whale's death since Saturday.
Initial indications are that the whale died approximately two weeks ago.
Marine biologists plan to take more samples from the whale and discuss the disposal of the marine mammal's remains with experts, who are expected to arrive on the scene in coming days.
The whale's remains must be removed due to public health concerns, but it is not clear how it will be done, the Environment and Sustainable Development Secretariat said.
Rio Negro officials would like to preserve the whale's skeleton for educational purposes or to display at a museum or school in the southern Argentine region, the secretariat said.
Source: EFE